Jocko Sims Breaks All the Rules On NBC's New Amsterdam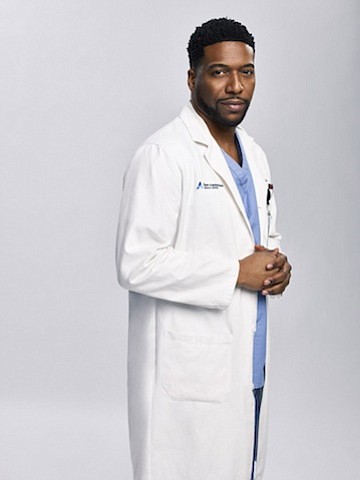 "You are going to get to know him a little bit more as the episodes progress. You are going to see a fun side in particular on episode eight which I am really excited about," said Sims.
Playing Dr. Reynolds is really natural for Sims since he is very similar to the character. He grew up being a by the book type of individual like Dr. Reynolds. Both have similar educational backgrounds with Sims graduating from UCLA and Reynolds from Yale. Family is extremely valuable to both men as well. Comedy and a well-tailored suit are favorable to Sims and Reynolds.
Although he has had numerous roles in the industry throughout his 16 years in the business, Sims calls the role of Dr. Reynolds his most rewarding. Before Jocko-the- actor, there was Jocko-the-future-dentist. In high school, Sims wanted to study science in college to become a dentist. However, he could not see himself in school for the next twelve years so he decided to explore his interest in acting. He took one theatre class and was hooked.
"I can thank Houston for inspiring me to continue it further," said Sims as he recalled his days in his first theatre class on the campus of the University of Houston. "Tom Pryor was my acting teacher at UH and not only he but everyone in that entire department welcomed me with open arms." In addition, he also credits Denzel Washington and Michael Jackson with inspiring him. " He electrifies you and draws you in and as an actor, I want to have that same effect on people or do it better if I can," he said speaking of Washington's talent. In recent years he has begun to really admire Jackson's work ethic and the time he spent perfecting his craft.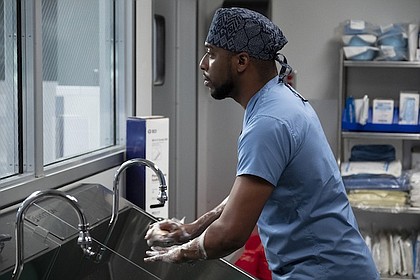 Sims, who was born in Houston, was raised in San Antonio and spent most of his summers in the bayou area. Whenever he is home his first stop is a Texas favorite, Whataburger. "I'm going to get my #5 with ketchup, mustard, pickles, cheese, and bacon only. I'm going to get a sweet tea and I'm going to get me three chicken tenders, not five, but three. I'm going to get my gravy and my barbeque sauce. And then that night I'm going to hit up Pappadeaux."
Whataburger and Pappadeaux are great but pale in comparison to the cooking of his mother. Who doesn't like home cooking? Sims, not only likes to eat home cooked meals but make them as well. It is a skill he picked up from his mom. On those rare occasions when the two can cook together, he most enjoys firing up the grill with her. "I am going to throw maybe some steaks on and she'll throw on a brisket, maybe some sausage. And that's the thing we like to do together. We'll barbeque together."
Besides food, Sims is a fan of sports. Looking at his social media accounts, he is clearly a fan of the San Antonio Spurs and he has a love for Houston teams too. Smiling he said, "I love the Rockets. I'm a big fan. And the Astros are amazing right now. You know this is a great sports city and it has been for a long time. It's about time the Astros won that championship last year and I think we are going to do again this year. Let's go."
From acting and producing to cooking and performing, Jocko Sims is a man of many talents and skills. As his star continues to shine he allows us to see more of his gifts.
Right now New Amsterdam has his life but he hopes to write a comedy film in the future to showcase his funny side. Until then watch him as the skillful Dr. Floyd Reynolds on Tuesday nights on NBC's New Amsterdam at 9 pm CST.