Ryder Cup: Europe trounces powerful USA in Paris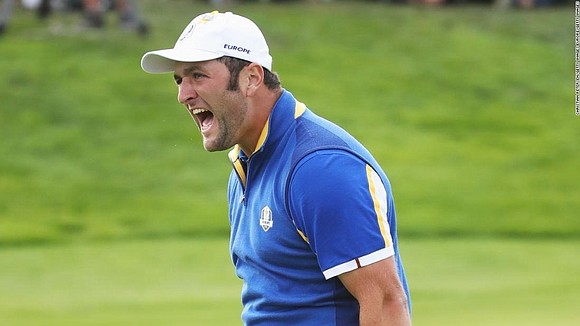 By Rob Hodgetts
(CNN) -- They arrived with a swagger. They left humbled, sent packing by Europe's band of brothers.
This powerful USA team, featuring a resurgent Tiger Woods, were supposed to retain the Ryder Cup. They were supposed to end the 25-year wait to win in Europe.
But despite a late charge on an electric Sunday, Europe held firm to deliver a stunning 17½-10½ victory near Versailles.
Europe's win was built on a dominant display over the first two days, a unity and excellence in team play that forged a 10-6 lead heading into Sunday's singles.
They needed the buffer, too, as the might of American golf hit back hard. The USA won three of the first four matches to close to within a point. For much of a sizzling afternoon there was an undercurrent of nerves among the massed ranks of singing, chanting, cheering European fans at Le Golf National.
But these early skirmishes proved fruitless in the context of the overall battle.
When Woods fell to Spanish rookie Jon Rahm, Europe were three points clear again and closing on the 14½ needed to win.
Europe's long-time Ryder Cup talisman Ian Poulter took them to the brink with another chest-thumping victory against world No.1 Dustin Johnson.
When Phil Mickelson found the water on the 16th and conceded his match to Italy's Francesco Molinari, the Cup was back in European hands for the seventh time in nine events.
It gave the unbeaten Molinari, the British Open champion, a record fifth point for the week.
"They've been amazing," European captain Thomas Bjorn told Sky Sports amid deafening scenes of celebration from roaring fans.
"The 12 of them have been unbelievable the way they bonded together, they were determined they set out to do a job for themselves. For me it was an easy job to guide them in that direction. They wanted it desperately. It's all down to 12 players and them only."
Molinari, who won four points with rookie partner Tommy Fleetwood, said: "It means more than majors, more than anything.
"It's hard not to get emotional when you think about the other players, the vice captains, the wives. They had the strongest team ever, probably, but we were just so good. Its unreal."
The USA team were touted as one of the strongest ever, and were determined to build an ongoing dominance in the event following the 17-11 win at Hazeltine two years ago to snap Europe's three-event winning streak.
Alongside Woods, the recent Tour Championship winner, the US boasted world No.1 Johnson, a double major winner this year in Brooks Koepka, nine major winners in all, six of the world's top 10 and an average world ranking of just over 11.
But when Europe won eight straight matches, including an historic whitewash in Friday's afternoon session, the USA superstars were reduced to wide-eyed tourists swept up in a maelstrom of noise and color.
Europe had five major winners, four of the world's top 10, including world No.2 and recent $10 million Fed Ex Cup winner Justin Rose, and an average of world ranking of 19.