How Giuliani wins by being 'the craziest guy in the room'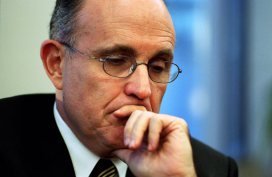 Analysis by Dana Bash, CNN
(CNN) -- He is ridiculed as ridiculous. He is attacked as around the bend. He is maligned as morally bereft in his unwavering defense of his old friend and client, President Donald Trump.
Yet Rudy Giuliani may just be crazy like a fox.
It turns out that he is doing exactly what the President -- his own best strategist and communications specialist -- brought him on board to do: chip away at public support for special counsel Robert Mueller's Russia probe.
It also turns out the President needed someone exactly like Giuliani to take on the role of flamethrower. His skin is thick after decades of dealing with New York tabloids, so bad press doesn't get to him as it would others.
His relationship with and understanding of the President allow him to speak fluent Trumpian. The fact that they're two Geminis in their early 70s from New York City helps make them kindred spirits.
Because of that, so far, Giuliani has avoided the fate of others, like Anthony Scaramucci, who spent a little bit too much time in the spotlight for Trump's taste.
Instead, sources in the Trump orbit tell CNN the President recognizes that the former New York mayor is helping him by taking on the role of aggressor Trump's been yearning for.
"If there is a room full of people trying to have a discussion, and there is a screaming baby, what is everyone going to think about? The screaming baby. Giuliani is the screaming baby," explained one source familiar with this strategy.
Or, put another way, the same source said, "Who is going to get the most attention? The craziest guy in the room."
An impromptu Giuliani news conference on the South Lawn of the White House on Wednesday is a perfect example.
Instead of avoiding reporters during a visit to meet with his client, as most presidential lawyers would do, Giuliani made a beeline for them, saying -- among other things -- that the part of the Mueller probe pertaining to the President must be done by September 1, so as not to meddle in this year's midterm elections.
"If he doesn't file his report by September 1, mid-September, he's clearly doing a Comey," Giuliani said, a reference to then-FBI Director James Comey's decision to tell Congress days before the 2016 presidential election that the FBI had reopened its investigation into Hillary Clinton's emails.
Taking on the Russia investigation
What is most remarkable about Giuliani's strategy is how transparent it is.
In an interview Sunday on CNN's "State of the Union" he admitted that his strategy is to erode public trust in the Mueller probe.
"[What] we are defending here is for public opinion because eventually the decision here is going to be impeach or not impeach," Giuliani told CNN. "Members of Congress, Democrat and Republican, will be informed a lot by their constituents. So, our jury -- as it should be -- is the American people."