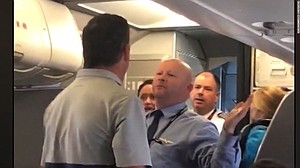 He said he just happened to see that guy's text messages he started shaking he was so mad and knew he had to do something. He stopped the flight attendant and told her what he was about to do. I told him thank you for what he did and that it meant the world to me - and that he would be my husband's new favorite person. The flight attendant kept trying to give him free drinks and told him that he was her hero.
He wasn't her hero - he was mine. I told him that yesterday at church, one of my favorite people on the planet, Jeff McMillon, talked about how God sees you. Good time, bad times, in a mess - your own fault or not - God sees you. And God saw me today. I told him that he was a blessing sent to me and how thankful I was that he was there.
So - this guy's name is Chase - he works for Whiskey Row in Nashville. Share this post, look him up- whatever - he did prove to me today that (1) not only does God see me, but (2) there are more good people in the world than bad."