Larry V. Green: Friend, Mentor, and Leader for All
The Life & Legacy of Larry V. Green Told By People Who Knew Him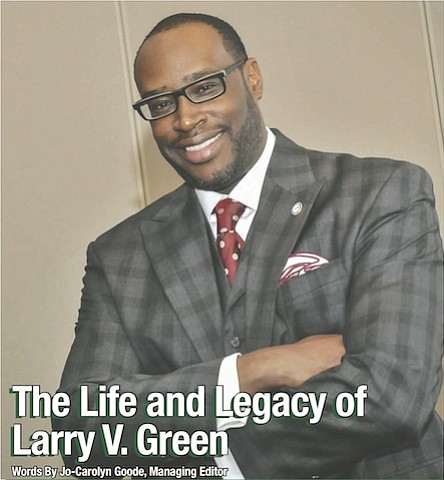 As much as he loved advocating for citizens, he had a special place for mentoring the next generation. His life had been directed by a number of gentle hands pushing him in the right direction, he felt compelled to do that for any youth that he came across. One who was a beneficiary of that influence was John Guess. He was fortunate enough to have had many conversations with Green on educational decisions and what career path to take. Green mentored him in the fraternity to make him an outstanding brother. All of his interactions with Green had been straightforward so he had to come to think the politician was a real stick in the mud until one fateful night at a Houston Rockets game that he attended with fellow fraternity brother and former Houston Controller Ronald C. Green. "It was the first time I met homeboy Larry," laughed Guess as he spoke about the 30 minute conversation the trio had about hip-hop and watching Green rap to Lil Wayne. Guess said his mind was blown and the dynamics of their relationship took on a new meaning. Something that he took for granted then but is appreciative of today because it was interactions like that with Green's personality that made him so relatable to all people of different ages and backgrounds.
Though he was on year six as a councilman his work for Houston and District K was far from over. The greatest way to honor Green's legacy is to continue his unfinished work. "Council Member Green was a caring visionary. He was a champion for the constituents of District K. His passion and dedication to improving our community was contagious. He laid an amazing foundation for this district and we will continue the great work he started. We will all miss this stellar public servant," said Martha Castex-Tatum, Director of Constituent Services for District K and Green's right hand. A special election will happen on May 5 to fill Green's District K seat.
Larry Vincent Green's death has shaken Houston. It also has awakened us to, of course, not take life or anyone for granted but to also not waste any opportunity and live life as boldly and loudly as we can adding sparks of color along the way.
A jazz visitation reception has been planned to celebrate the life of Houston City Councilman Larry V. Green on Sunday, March 11th from 4-6pm at Sugar Land Mortuary. His homegoing service will be held the following day, Monday, March 12th, at his home church, Brentwood Baptist Church, with the viewing of the body from 8:30-10am, Alpha Phi Alpha Fraternity, Inc. Omega Service from 10am-10: 45 am, and funeral service at 11:30 am.