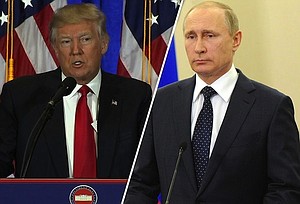 The uptick in coordination by the two countries comes at a curious time for the US, as relations with Europe continue to deteriorate amid escalating tensions over trade, climate change and the Iran Deal.
Trump's most recent attack on the trans-Atlantic relationship came Friday, when he threatened to impose additional tariffs against the European Union -- this time on car exports to the US.
The Trump administration has already implemented tariffs on steel and aluminum exports from Europe sparking a retaliatory response from the EU.
While the relationship has been fraying for months, NATO Secretary General Jens Stoltenberg offered what is perhaps the most ominous assessment to date last week, warning that the trans-Atlantic partnership may not last forever.
"It is not written in stone that the trans-Atlantic bond will survive forever," Stoltenberg said during a speech in London. "But I believe we will preserve it."
Stoltenberg's statement is stunning, said CNN national security analyst John Kirby.
"Stunning"
"I found it stunning that Stoltenberg said he could not guarantee that the trans-Atlantic alliance will last forever," said Kirby, a former Pentagon and State Department official. He added that the comments are directly related to Trump's abandonment of long standing European ties.
In that same speech, Stoltenberg also welcomed the potential meeting between Trump and Putin, calling dialogue between the two leaders "important" and adding that a meeting "is not in any way contradicting NATO policies."
"NATO is in favor of dialogue, and if you want dialogue, you have to speak to the political leaders," Stoltenberg said.
Kirby said is always constructive for the US and Russia to look for ways to continue talks, but he said that in this case, the timing of Trump's push with Putin seems "tone deaf " and "frankly unsettling" considering his interactions with European partners at the G7 summit earlier this month.
During that meeting, tensions over trade flared as Trump accused Canadian Prime Minister Justin Trudeau of making "false statements" and pulled out of a G7 communique outlining a number of shared priorities, including on trade, economic growth, national security and sustainability.
While Trump's combative tone at the G7 summit makes the timing of the outreach to Russia more peculiar, Kirby noted that, ultimately, the content of a possible meeting with Putin matters more than optics.
"If Trump is suitably tough on Putin about what he's doing in Syria, Ukraine, North Korea and in the cyber realm, then I would say concerns about timing would be greatly mitigated," he said, adding that "based on past performances," he does not expect that to happen.
As news surfaced earlier this month that the US and Russia were "exploring" the possibility of a meeting between Trump and Putin, Mattis offered a sobering assessment of relations between the two countries -- warning that the US must remain clear eyed in its dealings with Moscow as Putin "attempts to undermine America's moral authority" and "seeks to shatter NATO."
"He aims to diminish the appeal of the western democratic model and attempts to undermine America's moral authority, his actions are designed not to challenge our arms at this point but to undercut and compromise our belief in our ideals," he said at a graduation ceremony for the US Naval War College in Newport, Rhode Island.
Mattis also alluded to Moscow's military actions in Crimea and eastern Ukraine, saying Russia has "proven willing to use conventional and irregular power in violation of international norms."