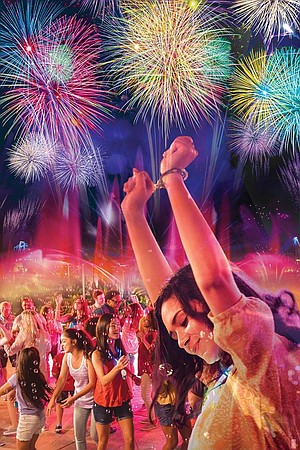 Morgan's Wonderland and Morgan's Inspiration Island: As the world's first ultra-accessible splash park, Morgan's Inspiration Island concentrates on inclusion and inspires guests with special needs to do things previously thought impossible. Features include a river boat adventure ride with twists and turns through a jungle setting with bird and animal sounds in the background, as well as five wheelchair-accessible water play areas that offer a variety of splash elements such as raintrees, falls, pools, geysers, jets, water cannons and tipping buckets. Morgan's Inspiration Island opens for its second season this year and is located next to Morgan's Wonderland, the world's first ultra-accessible theme park.
Pearl: The Pearl provides a unique experience as a top culinary and cultural destination for the entire family. The mixed-use space features unique retail shops and gourmet restaurants along with a giant green lawn and large splash pad for kids. As a former brewery operating from 1883 to 2001, Pearl reflects a vivid past while embracing the future with LEED-certified complexes mixed with historic architecture. Featuring multiple events throughout the week such as live music, a farmer's market and more, Pearl is an ideal option for families visiting the Alamo City.
EAT:
San Antonio is lauded for its culinary scene and has a wide range of options available to visitors. The city prides itself on being family-friendly and these restaurants are no exception:
Burgerteca: Developed by renowned Chef Johnny Hernandez, Burgerteca is a never-done-before burger concept that offers custom-made burgers with ingredients and flavors distinct to traditional Mexican food. Its kids' menu and fun snacks such as Mexican ice cream, frozen popsicles (paletas) and shaved ice (raspas), make it a great option for the entire family to enjoy.
Dough Pizzeria Napoletana: The restaurant, known for its authentic Neapolitan-style pizza concept, just made the debut of its second location in San Antonio at Hemisfair. This new location is a perfect destination for downtown visitors as it offers a relaxing place in the park and a jumping off point for exploring Southtown.
The Cove: The Cove features a kid-friendly space with a giant playscape and features organic American fare, live music and a large selection of beer and wine.
Friendly Spot: As its name says, this friendly venue features a wide variety of brews, good food and plenty of space for kids to play.
Pearl's Bottling Department: Pearl's popular food court features six different vendors, including Maybelle's Donuts, a favorite for the entire family. Guests can enjoy meals outside the Bottling Department where kids can play in the splash pad fountain or run on the giant lawn.
Alamo BBQ Co.: Renowned San Antonio Chef Jason Dady just opened a new barbecue restaurant conveniently located on Grayson Street, near the Pearl. The family-friendly restaurant offers a giant playground perfect for kids to play, live music, and, of course, delicious barbecue.
STAY:
San Antonio features numerous family-friendly hotels for all price points and preferences. A few highlights that offer a wide array of family-friendly amenities and are in close proximity to some of the city's main family-focused attractions include:
Hyatt Regency Hill Country Resort and Spa: Sitting on 300 acres of stunning ranch land, this resort offers luxury rooms and suites in addition to a full-service spa, 27-hole golf course and a five-acre water park with multiple pools, a lazy river, the FlowRider Wave Machine and private pool cabanas available for rent.
JW Marriott San Antonio Hill Country Resort & Spa: Conveniently located near Natural Bridge Caverns, Texas Hill Country wineries, and more, the JW Marriott San Antonio Hill Country Resort & Spa is a favorite for families. The JW Marriott offers a nine-acre water park that features a 650-foot rapid river ride, a 1,100-foot lazy river ideal for hot Texas days and the luxurious Lantana Spa.
Drury Plaza Hotel Riverwalk: Located downtown near the River Walk and The Alamo and walking distance from shops, restaurants and entertainment, this historic hotel offers complimentary breakfast and evening snacks. The property features a rooftop pool with city views and a balcony overlooking The Saga, a mesmerizing video art show with free showings four nights a week.
For additional information on San Antonio summer family fun, visit www.visitsanantonio.com.