Houston Texans vs. San Francisco 49ers Kick Off the Preseason in the State of Football Game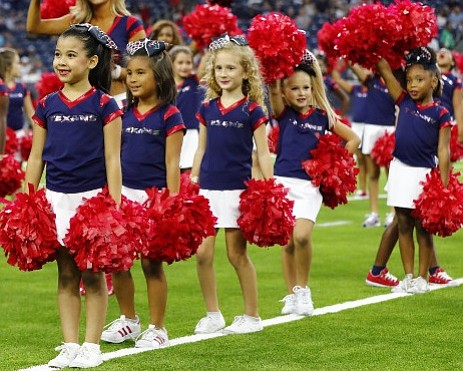 Hashtag: #StateOfFootball
The Houston Texans will play the San Francisco 49ers this Saturday, Aug. 18 in the State of Football/NFL Play Football Game presented by Verizon. Kickoff is set for 7 p.m. CT at NRG Stadium.
The State of Football Game celebrates football at all levels in the state of Texas and supports player safety initiatives. NFL's Play Football lauds youth and high school football. This year-round initiative sets out to shape the football experience, promote safety, advocate football values and unite football communities. The halftime matchup will include the Youth Football Classic featuring the Klein Texans and Klein Oilers from the Houston Texans Showcase League.
The Texans and the NFL are dedicated to supporting youth football and promoting safety initiatives. USA Football's grant program will award over $1.5 million in resources to benefit young athletes in 2018, based on merit, need and a school's or sports organization's commitment to coaching education and best practices. USA Football has awarded more than $10 million in grants to school-based and youth football programs since 2006. Because of the support of the Houston Texans and USA Football, more than 50 schools in the Houston area will receive grants that support safe and fun football for the youth of our city.
Below are more details on in-game entertainment and what to look out for at this weekend's matchup against the San Francisco 49ers in Houston:
State of Football features:
· From the Houston Texans Showcase League, All American Youth Football and Drill Team, the Klein Texans, the Klein Oilers and the Tomball Redcats will participate as the Texas Flag Holders.
· The Bellaire High School Mighty Cardinal Band will play the national anthem.
· Lamar High School Army JROTC will serve as the Color Guard.
· The Houston Texans FLAG Team will serve as Homefield Advantage Captains. They were the 2017 NFL FLAG National Champions in the 13 and 14-year-old division.
· Cy-Fair High School Team Captains and Head Coach Ed Pustejovsky will serve as Coin Toss Captains. They were the 2017 State Football Champions.
· Highlighting the pregame events will include a special performance by the 2018 Jr. Cheerleaders presented by Texas Children's Hospital and the Houston Texans Cheerleaders.
· Gate entertainment will be the North Shore Middle School and Barbers Hill Middle School South Cheerleaders who will greet fans as they come through the gates.
· The halftime presentation will recognize 2017 Houston Methodist Coach of the Year, Brian Fitzgerald of Oak Ridge High School.
· Special presentations at the State of Football ceremonies will include the Greater Houston Football Coaches Association Hall of Honor Inductees David Smith from Klein Oak High School and Mark Schmid from The Woodlands High School as well as the GE and Houston Methodist Play Safe Most Valuable Moms Presentation.