The caravan of migrants has reached the US-Mexico border. So what's next?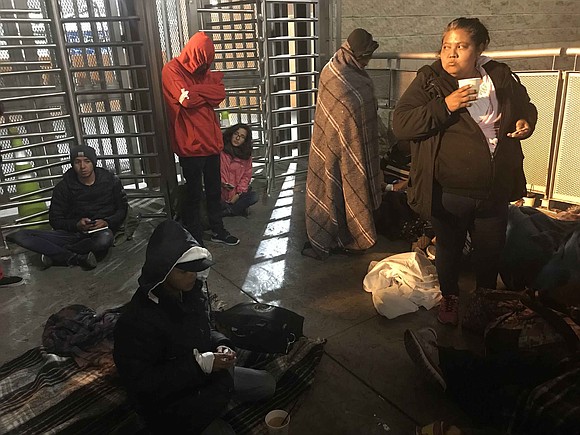 By Eric Levenson, Khushbu Shah and Catherine E. Shoichet, CNN
(CNN) -- After nearly a month of traveling by bus, train and on foot, about 100 migrants on a caravan from Central America arrived at the San Ysidro port of entry on the US-Mexico border on Sunday evening, preparing to claim asylum.
And there they wait.
Another 20 to 30 migrants spent the night inside an immigration processing center in Tijuana, Mexico. An organizer of the caravan vowed they would remain at the immigration processing center until "every last one" is admitted into the United States.
Their presence at the border, and the accompanying intense media attention, has raised the stakes around what is already one of the most intensely debated humanitarian and policy issues of the Trump presidency.
Both sides have reason to further press their case. The caravan's organizers hope to garner further sympathy for the migrants' plight. On the other side, President Donald Trump has vowed not to let them into the country and has said the caravan shows the need for increased border security and a border wall.
It is legal for migrants to arrive at an official US port of entry and ask for asylum if they fear violence in their home countries. The issue, then, is less about what is legal than it is about what should be done next.
What the migrants are doing now
As of midday Monday, the migrants are waiting for their opportunity to present their case.
Before the group arrived, US Customs and Border Protection officials said the port had already reached full capacity. Migrants trying to get into the US may need to wait in Mexico as officials process those already in the facility, officials said.
It's far from clear what will happen next to the caravan, which is largely made up of women and children fleeing Central American countries wracked by poverty and violence.
One such migrant is Gabriela Hernandez, a pregnant mother of two who fled Honduras and crossed Guatemala into Mexico to join the group heading north. She and her two sons left behind their friends and family and battled hunger and exhaustion along the month-long journey.
"There are people who think I just woke up and said, 'Oh, I want to just go to the United States.' It's not that easy," she said.
At a rally on Saturday, Trump mentioned the caravan three separate times to a crowd of supporters.
"Are you watching that mess with the caravan coming up? Are you watching this?" he said. "Our laws are so weak, so pathetic, given to us by Democrats, Nancy Pelosi, Chuck Schumer. Let me tell you, we have gotten Mexico to work with us on stopping a lot of what is pouring in. We have the worst laws anywhere in the world. We don't have borders. We are going to build the wall."
What happens once they request asylum
In general, asylum seekers follow these steps once they're in custody: