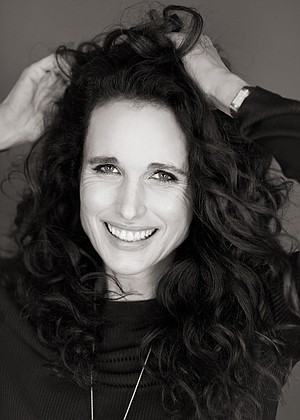 Actress Andie MacDowell's appeal is in her ethereal glow. From her crown of dark cascading curls to her porcelain complexion and delicate features, MacDowell's sweet yet sultry sensuality captivated movie-going audiences with hits like Sex, Lies, and Videotape, Green Card, Groundhog's Day and Four Weddings and a Funeral. She has always played the woman of great desire who orbits just outside of the male lead's reach... that is, until he figures out how to win her over.
As Andie tells it, her "it girl" status throughout the late eighties and the whole of the nineties was a thrill ride, but left her feeling torn between an A-List movie career and being a hands-on mother to her three children. It was then she resolved to stop making movies back-to-back, but to choose her projects more carefully, kicking the tires first to be sure the role was worth time away from her family.
Over the last eighteen years, MacDowell has continued to work steadily, choosing roles that move her, make her think, and those that allow her to unpack her more provocative side. In 2015's Magic Mike XXL, MacDowell played Nancy, the flirtatious older woman who unapologetically has her way with Joe Manganiello's character. It's safe to say that at this stage in MacDowell's career she is doing anything but playing it safe on screen.
In her latest film, Love After Love, MacDowell tackles the role of the beautifully confident Suzanne, a wife and mother of two grown sons (played by Chris O'Dowd and James Adomian). She is loving her life (including her sex life) until her husband's declining health and his death leaves her and her family reeling with grief, bitterness, and fear, as they try to regain their equilibrium.
Andie and I sat down for a frank discussion about growing older in Hollywood, embracing each stage of life, the #MeToo movement, finding her spiritual center and the enigmatic definition of happiness.
Allison Kugel: When you're making a movie like Love After Love where the subject matter is heavier and about loss, do you feel pressure to entertain the audience, or is your allegiance solely to bringing out the truth of this character?
Andie MacDowell: I don't think about it as entertaining the audience. I think it's about touching your audience. When I read a book or watch a movie, I feel what the characters are feeling. Sometimes when I watch a movie, I almost feel like I'm in the movie. It's more along the lines of being honest. And this character, Suzanne, she is so beautifully written. It's about taking someone on the same journey that these characters go on. In the beginning of the film, she has such confidence and she is very lucky in her life. You see her drinking and having fun with all these people, and there is so much love around her. Then she goes through complete devastation from the loss of her husband, and then it's the slow road back, including her learning how to have sex with another man. Our director, Russell Harbaugh, is a true artist and I think this movie looks like a piece of art. Although there is nudity throughout the whole film, it's done in such an artistic way that it makes the story that much richer because you just feel like you are watching these people's lives.