TSU: 90 Years Later and Still A Force to Be Reckoned With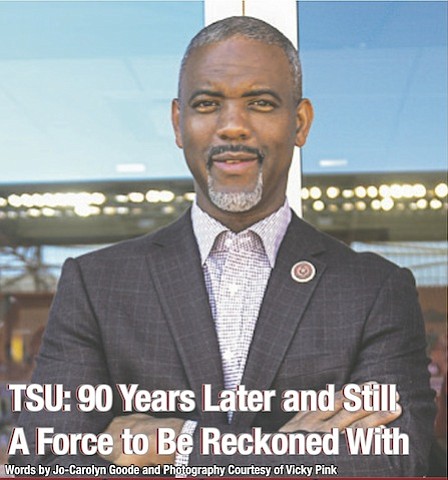 Any institution around for 90 years has its share of stories. The ones of triumph, the ones of defeat, and all the ones in between that have helped shape the institution to be stronger, more competitive and a leader in the education arena. Texas Southern University has been that pillar for Houston. This week they celebrate the students, faculty, staff, and alumni who have contributed to the making of those stories with their annual homecoming celebration themed 'TSU Dynasty, 90 Years In, The Reign Continues.'
Ushering in this 90th year is the 12th university president, Dr. Austin Lane. Officially on the job for a little over a year, this will be his second homecoming as president. He promises if you thought last year's homecoming was something, wait for homecoming 2017. "I can tell you this year it's going to be even better," said Dr. Lane as he talked about the expected 3,000 people that will be on campus for the weekend of activities. "Whether you went to TSU or not we want to welcome you home."
What alumni and friends will see when they return home to TSU is a university that is in transition. When Dr. Lane first became head of the helm at the historically black university he had an action plan to talk to any and everyone associated with TSU on a Listen and Learn Tour to get to the know the university better with its obstacles, challenges, and barriers. Taking notes and examining what he learned from the tour he then implemented his five-point plan that focuses on student success, academic: quality and research, culture, funding, and partnerships. Results from this plan are starting to be seen with this new academic school year and TSU is being made the better for it.
What is a university without its students? Nothing really. Dr. Lane knows that in order for TSU to grow and advance he has to make the university more appealing to students to increase enrollment and find funding so that they can stay in school and graduate. Check the box for Dr. Lane in this category. This academic year TSU welcomed a freshmen class of over 2,000 increasing the overall enrollment to 10,000 students. That is up by 2,000 students in comparison to last year's numbers. Student transfers have increased by 30% and student retention is up by 7%. "We are having some success because we are starting to be strategic in how we put things together. This is not by magic. I have been doing this thing for 22 years." Dr. Lane continued, "We have got a strategy for every issue or problem that comes up."
With a growing student body, one also has to have the right faculty and staff to nurture and instruct those young minds. Dr. Lane is one who likes to surround himself with the best so that his students can be their best. Being a man of action, he is not one who has a lot of patience. He is not sitting around and waiting for talented, qualified people to apply to work at TSU to meet the demand. He is in the field actively recruiting top-tier talent like he recruits his students. Already he has welcomed a new CFO, Vice President of Student Affairs, Interim Provost, Vice President of University Advancement and soon a new Dean of the School of Communications. And more new hires are coming.