5 Things for Friday, May 19: Trump Trip, Iran Election, Times Square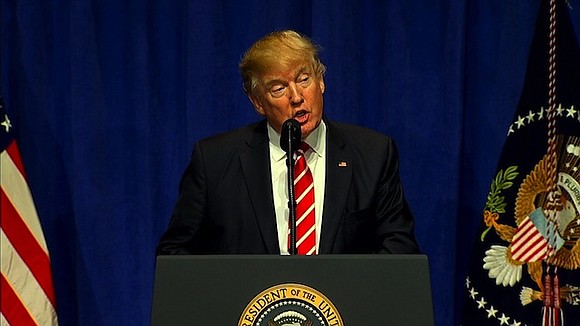 By Doug Criss
CNN
(CNN) -- Trying to lose weight? You might want to eat a big breakfast. Here are the 5 things you need to know to Get Up to Speed and Out the Door.
1. President Trump
Has any president wanted to get away as badly as Donald Trump does right now? Trump leaves today on his first overseas trip as President after what has undoubtedly been the most difficult two weeks of his term. He'll go to Saudi Arabia, Israel and then to global summits in Italy and Belgium.
Trump will leave behind the sting of the appointment of a special counsel to investigate the Russia election-collusion allegations, as well as the fallout from his firing of FBI Director James Comey. Trump called the investigation a "witch hunt" and denied he asked Comey to end it. And speaking of Comey, we may hear from him very soon. A Republican on the House oversight committee said he's "pretty confident" Comey will testify next week. Talk about must-see TV.
As for who'll replace Comey at the FBI, Trump says he's close to making his decision and that ex-Sen. Joe Lieberman is among the frontrunners. That would definitely tick off Democrats. Sure, Lieberman was the Dems' veep candidate in 2000, but he fell out of favor after he became an independent, then backed Sen. John McCain for president in 2008. Since leaving the Senate, Lieberman has worked for a law firm that has represented Trump, a fact Democrats could seize on as well.
2. Iranian election
You thought the Iran nuclear deal was only controversial in the US? Turns out it's pretty contentious in Iran, too, and it's become a central issue in the country's presidential election, which takes place today. Iranian President Hassan Rouhani, a moderate who was a key architect of the deal, is running for re-election against more conservative hardliners. The election is partly seen as a referendum on both the deal, which has produced mixed economic results for Iranians, and Rouhani's part in it. His closest opponent is Ebrahim Raisi, a conservative cleric who doesn't think the deal is all that. If you're just jumping in on this story, check out our beginner's guide.
3. Times Square
A driver was charged with murder after a car plowed through pedestrians in New York's Times Square, killing a tourist and injuring at least 22 people. Richard Rojas also faces 20 counts of attempted murder and other charges. Witnesses described a hellish scene: a speeding car jumps the sidewalk, rams through three blocks worth of screaming pedestrians, then crashes in a fiery wreck. The suspect tested positive for PCP, told police God made him do it and said he expected officers to shoot him, a source tells CNN. The incident is not being investigated as an act of terrorism.
4. Superbug
There's another superbug to worry about, and the place you're most likely to catch it is in a hospital or nursing home. It's a drug-resistant fungus called Candida auris. and the number of cases of it has increased from seven to 122 over the past nine months. The fungus causes severe illness with high mortality, especially among high-risk patients, like those in intensive care or who have to wear a catheter. Scientists worldwide are very concerned about it because the fungus shows resistance to antifungal drugs, "leaving no medication to treat" patients. None of the infections reported in the US has been resistant to all medicines.