New Orleans Flooding and Pumping System Crisis By the Numbers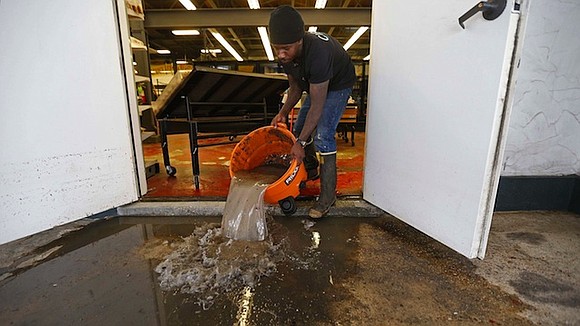 By Nicole Chavez and Michelle Krupa, CNN
(CNN) -- Louisiana's governor has declared a state of emergency in New Orleans as officials and residents scrambled in the aftermath of last Saturday's heavy storm that left hundreds of homes and businesses flooded.
With more rain in the forecast, New Orleans leaders rushed to deal with a series of malfunctions in the city's drainage system -- and to face a critical public after some local officials waited days to reveal the full extent of system failures.
"There is no need for panic," Mayor Mitch Landrieu said during a Friday news conference while advising residents to remain vigilant and to stay off the streets if rain starts to fall.
The city has struggled with its unique drainage system for years. Century-old pumps are in constant need of repair, catch basins repeatedly clog, and potholes and sinkholes form seemingly everywhere.
Because of New Orleans' unusual topography -- with many areas below sea level and protected by levees -- pumps in every neighborhood must suck rainwater out of storm drains and canals and push it into a nearby lake or other water bodies. In most other places, gravity does that work.
This time, unlike during Hurricane Katrina in 2005, a huge amount of rain falling in a very short period of time caused the flooding. The rain tested the drainage system -- not the chain of levees, flood walls and pumps that the federal government built after Katrina.
Here's what the recent flooding looks like by the numbers:
10 inches of rain
Within three to four hours on Saturday, as much as 8 to 10 inches of rain fell across New Orleans.
"The rate of rainfall in many neighborhoods of the city was one of the highest recorded in recent history," the city said in a news release.
The storms caused widespread street flooding, damaging "a couple hundred" properties," city officials said, contrasting the figure to more than 200,000 properties ruined in Katina.
The storms caused a 100-year flood, meaning there's usually only a 1% chance that a flood of such magnitude could happen in any given year, the National Weather Service determined.
"There is no drainage system in the world that can handle that immediately," outgoing Sewerage & Water Board Executive Director Cedric Grant told CNN affiliate WDSU.
The drainage pumps can process 1 inch of rain in the first hour of a heavy storm, then a 1/2 inch in each subsequent hour, Grant said.
16 drainage pumps out of service
New Orleans uses 121 pumps spread across every neighborhood to suck water out of storm drains and canals and push it out of the levee-enclosed city.
About 100 of those pumps are huge -- some as big as a garage -- and are key to draining rainwater; the rest are small and constantly working to clear the streets of runoff from lawn-watering and other daily water usage.
Sixteen pumps were out of service over the weekend, making things even worse for a drainage system that already was working above its capacity, and streets began flooding. Six of those pumps were big ones located in neighborhoods that got the most rain; two others were big ones elsewhere in the city. The other eight were the smaller, constant-duty pumps.