Balancing Books and Politics: PVAMU Student Goes to College As Youngest City Councilman in the State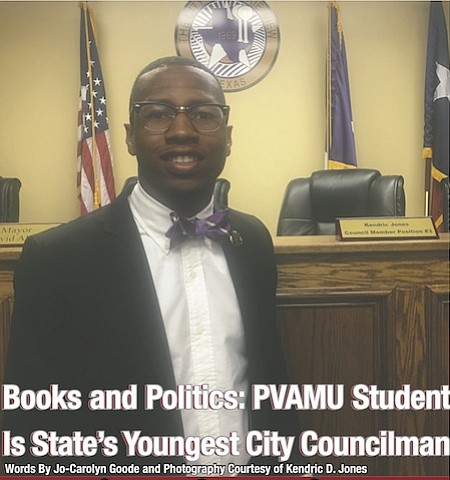 As a member of the graduating class of 2018, Kendric D. Jones is a pro at going back-to-college. He knows what to pack, what to expect, and basically what to do. However, this year will be different than usual when returning to Prairie View A&M University to finish up his last two semesters of his undergraduate collegiate career as he will have a lot more to juggle balancing books with politics.
Jones is not your typical college student. Sure, he balances academics with an active social life on campus participating in a number of organizations including Alpha Phi Alpha Fraternity, Inc. among them. The agriculture economics major is well respected by the student body as that was proven with his recent election in April as the incoming Student Government Association President. Running on a campaign platform called "My Race, Your Vision, Our Hill," Jones will focus on the rich history of university while inspiring students to make their goals a reality with action plans for a lasting investment in their future. In addition, he wants to address all issues and concerns with viable solutions. This is the "hill" part of his overall plan. But that is where the line of a typical college student is drawn with Jones. Since this school year Jones will be more than just a PV student but a PV Councilman as well. He will maintain the politics of PVAMU to ensure students' voices are heard and also work to ensure the voices of Prairie View citizens are being heard (which include the student body of university) as the youngest city council member in the state of Texas, representing position #3 on the Prairie View City Council.
Growing up Jones was always told something that has stuck with him throughout his life. "You always want a seat at the table or you'll be given the crumbs that someone throws on the floor." As a PVAMU student, Jones, in essence, felt his peers didn't have a seat at the table where the political power moves were being played. Local politicians just saw students as someone to vote for them but not as a citizen who had voice in the community. "We would only see politicians one time during the year and it was just for their vote. They weren't concerned or cared about us," he said. Being a bystander to that kind of treatment and then working on the inside of friend's campaign seeking local office, Jones thought it was time out for that type of relationship and he was the man who could help change it.

"The perspective that I have now is that it's a broken relationship between the community and the students. The community feels like the students are just here to party and leave once they get their degree. They don't care about the city of Prairie View, " said Jones. He wants to transform their perception of students in the minds of citizens. In order to do that, he knows he has to get the students involved in the city of Prairie View outside the university boundaries. "What I tell them (PVAMU students) is that you can't expect them (Prairie View citizens) to change their mindset when you guys don't reach out to them." In this next year, Jones will have his hands full building a trusting relationship between the students of Prairie View and the citizens of Prairie View so that together the groups can progress and move the city forward.