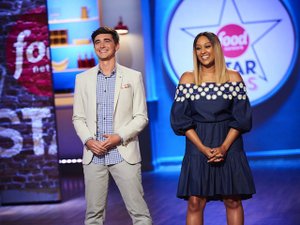 The Food Network has launched a new show called "Star Kids", where 10 children between the ages of 8 and 13 are competing for a chance to have their own show on the network. The show airs every Monday night at 7 pm central time. Also, if you have missed the past few episodes, it's easy to get caught up by going online: www.foodnetwork.com/shows/starkids.

Furthermore, the "little stars" are guided through this culinary competition by former teen idols turned TV Cooks: Donal Skehan and Tia Mowry. Both Skehan and Mowry currently get to show off their individual culinary styles and skills on The Cooking Chanel and You Tube.
Many of us got our first glimpse of Mowry when she starred with her twin sister on the now syndicated show called "Sister Sister". Skehan is from Dublin Ireland and is a former band member of the groups Streetwize and Industry. Both co-hosts are now married and raising families of their own.

According to his bio, Skehan got his start when he created a food blog in 2007; he was offered a book deal that coincided with his first television series on Irish TV. Moreover, he recently announced that his latest cookbook called "Eat, Live, Go" is coming out in October 2016. Mowry is currently the host of "Tia Mowry at Home" on The Cooking Chanel.
After the series "Sister Sister" wrapped production, Mowry attended Pepperdine University, where she graduated with a bachelor's degree in psychology. In 2013, Mowry published her debut book, Oh, Baby!: Pregnancy Tales and Advice from One Hot Mama to Another; in May 2016, she released the second book of her young adult series, Twintuition, which she co-wrote with her sister. Next up, Tia will be releasing her first cookbook, A Whole New You."
In a recent interview with Skehan, he expressed his joy and excitement of working on a show that's a "first" for the network. He also indicated how he and Mowry are enjoying watching the kids put in the hard work and have been surprised with the confidence that most of them are showing. And if you've seen the first show, his observations are spot on, because the kids that were picked to be the 10 show's contestants are bursting with confidence as they begin the competition.
Finally, the kids are half way through the competition now, and there will be one winner chosen at the end of the trials. Mentors Skehan and Mowry are on a steady path of culinary adventures, with launching cookbooks, television appearances and attending to their families. Skehan's website is: www.donalskehan.com and s keep up with Tia on Twitter @TiaMowry
Thanks for reading and please continue to follow Team Style on Twitter, Facebook, and Instagram.