Immigrant Youth Force Issue of Racial Profiling Into Harris County Sheriff's Debate
Controversial "287(g)" Deportation Program Becomes Lightning Rod in Election That Will Determine the Future of People of Color, Immigrants in Harris County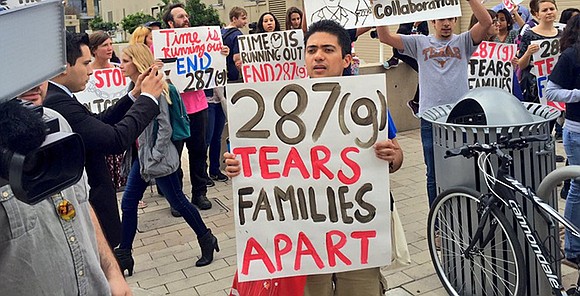 Houston, TX - Candidates for Harris County Sheriff squared off in a debate held at the University of Houston - Downtown tonight. Seeking a substantive conversation about immigration policy, the audience asked questions about each candidate's position on the relationship between immigration and law enforcement. Republican incumbent Ron Hickman and Democratic challenger Ed Gonzalez participated in the debate, which was presented by KTRK ABC13, Univision 45, KXLN and UHD. KTRK reporter Ted Oberg and Univision anchor Rebecca Suarez moderated the discussion.
Both candidates were asked about policies that impact the immigrant community and both addressed the controversial policy known as 287g. Sheriff Ron Hickman defended the program by attempting to minimize his role in the 287g. Ed Gonzalez vowed to repeal it, citing well documented facts that the program costs taxpayer dollars that could be better spent protecting them, rather than breaking apart families in the process.
Frances Valdez, a Houston-based attorney with FValdezLaw PC, and a leader with United We Dream Action issued the following statement:.
"Hickman uses local taxpayer dollars to voluntarily colluding with immigration authorities. As a result, our children, our coworkers and our friends are being taken away from their homes and communities as we speak. Our business owners are losing valuable workers."
Oscar Hernandez, a local resident of Houston and United We Dream Action organizer, issued the following statement
"As an immigrant, tonight I am more afraid thinking of Sheriff Hickman keeping his seat as Sheriff. Tonight, Sheriff Hickman doubled down on his support for Donald Trump who has promised to force every undocumented immigrant out of the country. He doubled down on his promise of a Harris County with unaccountable officers racially profiling immigrants that put them in a jail to a deportation pipeline. My community is ready to fight back, and we will be out there, in our orange shirts, ready to combat racism to #end287g."
Greisa Martinez, Advocacy Director of United We Dream Action, issued the following statement:,
"Dangerous policies like 287g violate the basic promises of fairness and due process. When there are politicians like Donald Trump, who Sheriff Hickman loudly endorsed in the middle of the forum, using every opportunity they can to demonize immigrants, and call for racial profiling we must counter that false and hateful message with the facts. Immigrants are hard-working, contributing members of our society and deserve to be treated with due process, dignity and respect."
In fact, immigration enforcement programs like 287(g) result in more people being incarcerated – from the criminal case to immigration detention - enforcing the crisis of mass incarceration. Increased policing through the collaboration between local law enforcement and ICE further increased fear and distrust in immigrant neighborhoods.
United We Dream Action (UWDA) is a powerful nonpartisan network led by immigrant youth across the country. UWDA educates the public and promotes public policies and programs which advance the cause of dignity of all immigrants. More information about UWDA and our sister organization, United We Dream at www.unitedwedream.org