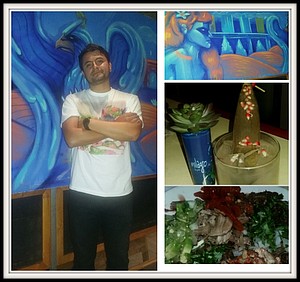 Emma's Mex Grill located at 5010 West Broadway in Pearland, Texas hosted a private party to honor the heritage of restaurant owners the Mendieta family by having Mexican Artist Beo Hake paint a mural on the wall of the establishment during the festivities. The event was a collaboration between Milagro Tequila and the restaurant proprietors whose family lineage is rooted in Mexico. Moreover, according to recent press documents "the event coincides with Milagro's "Agave Expressionism" campaign, which unveils progressive artworks from top Mexico City street artists, embracing Milagro's roots in the city's creative culture. The initiative launched in 2015 and has since showcased inimitable works in New York, Chicago, Los Angeles, and San Francisco via large public murals. "
Additionally, the restaurant served a "street style" dinner that featured handmade flour and corn tortillas, fajitas, barbacoa (beef cheeks), pollo guisado (stewed chicken), pastor (marinated pork), grilled vegetables, empanadas, and a medley of salsas. My favorite meat of the night was the barbacoa, the meat was tender, bursting with flavor, and paired well with the first cocktail, which happened to be my preference of the three mixed beverages, we enjoyed.
The first libation was an "ancho chile rita," which featured Milagro Silver Tequila, Agave nectar, Ancho Reyes Ancho Chile Liqueur, lime juice, and a dried ancho chile as a garnish. The tequila was subdued a bit in this beverage, in my view, because the chile and lime flavors added a nice bite to the finish, which was well received by this writer; I wanted four more.

While we ate and watched Beo work on the mural, we were greeted by Milagro's Texas Ambassador, Juan Pablo De Loera, (JP). "Like Milagro Tequila, JP has roots in Tepatitlan, located in the highlands of the state of Jalisco. In addition to Guadalajara, JP grew up in San Antonio, Texas." Subsequently, he expressed his passion for the brand and his work during our interview. He has an extensive background in tequila, which started by learning from agave growers and master distillers. Texas is in good hands with such a knowledgeable and friendly ambassador.
Finally, to view the completed mural, visit Emma's in Pearland or go to their website www.emmasmexgrill.com. Also, to learn more about Milagro Tequila, visit www.milagrotequila.com/welcome.

For those interested in keeping up with Artist Beo Hake, his website is beohake.com. Follow his Facebook page by going to www.facebook.com/beohake2.
Thanks for reading, keep up with Team Style Magazine, by following us on Facebook, Twitter, and Instagram. Read additional articles of interest by visiting www.stylemagazine.com.