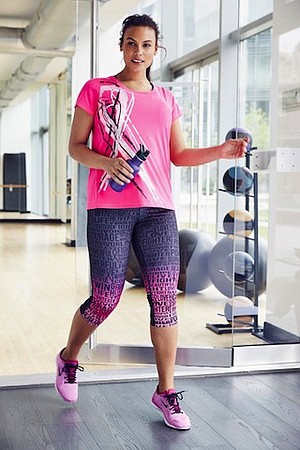 MIAMI, FL – October 3, 2016 – This October, Macy's is once again inviting customers to "think pink" and show their support in the fight against breast cancer through an inspirational and fashionable campaign that heightens awareness and turns the fundraising focus on a disease that affects not only women, but those who love them. Throughout the month of October, the power of pink will prevail with exclusive merchandise, including fashion, cosmetics and items for the home, in addition to Ralph Lauren Pink Pony apparel. And, for the first time, those united in the fight will be able to show their support through a new, limited edition Pink Pony Bracelet that benefits the Pink Pony Fund of The Ralph Lauren Foundation (available in store only from Sept. 28 to Oct. 10). With a plentitude of pink, Macy's celebrates Breast Cancer Awareness Month with style and strength.
"Macy's long-standing commitment to the breast cancer awareness movement is incredibly inspiring" states Holly Thomas, Macy's group vice president of cause marketing. "Our ongoing dedication to charitable causes makes an even greater impact with the support of our employees and our terrific partners, such as Ralph Lauren, who join forces toward a common goal. And, of course, we are so grateful to our customers who continue to show their generosity by shopping at our stores and in our dedicated online "Pink Shop" in a quest to raise awareness and champion the fight against breast cancer."
Pink Pony
For the fourth consecutive year, Macy's has joined forces with the Pink Pony Fund, Ralph Lauren Corporation's worldwide initiative in the fight against cancer. This year, the Pink Pony Campaign is launching for the first time, a limited-edition Pink Pony Bracelet which will be exclusively sold at most Macy's full-line stores across the country. The bracelet is made of pink adjustable cord, decorated with a pink enameled iconic polo player charm and engraved with Ralph Lauren script on the back. The bracelet will be available in-store for $5 ($4 of which benefits the Pink Pony Fund of The Ralph Lauren Foundation) from September 28 through October 10 and customers who purchase it will also receive a special discount up to 25 percent on a wide assortment of merchandise at most full-line Macy's stores nationwide (with applied exclusions). Also new to the campaign this year is the Pink Pony Limited Edition fragrance "Ralph Lauren Tender Romance" of which 15% of the purchase price* will be donated to the Pink Pony Fund of The Ralph Lauren Foundation. And finally, a special collection of t-shirts and active wear will transform Polo Ralph Lauren shops into Pink Pony destinations in 16 Macy's locations across the country and online at macys.com/ralphlauren. Twenty-five percent of the purchase price of all other Pink Pony products sold in the United States will benefit the Pink Pony Fund of The Ralph Lauren Foundation for causes devoted to cancer awareness, education and research. Since its launch in 2013, this exclusive partnership has raised more than $5.5 million for the cause.