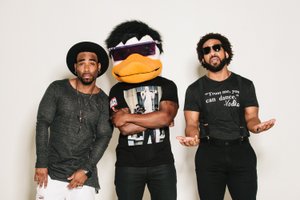 "Everyone sees the Duck traveling smoothly on top of the water, but no one sees how hard he's kicking under it to stay afloat."
When it comes to bringing a force to the stage in front of thousands of people and getting them to groove, the multi-talented musical trio Watch The Duck (WTD) is globally recognized for their high-energy to do so. WTD has a popular hit single out called, "Stretch 2-3-4" featuring the multi-Grammy Award winning beast, Pharrell Williams and you may have found yourself vicariously dancing to it. The guys recently earned themselves a national TV spot for Gatorade's Propel 'Made to Move' commercial with the single that has everyone stretching and doing all kinds of athletic moves. Hailing from Montgomery, AL, WTD is led by founding/performing members Jesse Rankins (vocalist – aka the Voice) and Eddie Smith III (producer/DJ aka the Sound), along with production partner Oscar White (engineer/guitarist aka the Duck). The band's music is a movement; an eclectic infusion of electronic dance music, soul, trap and an array of some meat-to-the-bone happiness. There is no sane way to characterize their music, it is limitless.
WTD has worked with Houston's own world renowned mega star, Beyoncé, T.I., SchoolBoy Q, The Dream, Afrojack, and Young Jeezy, just to name a few. These guys have shut down stages at SXSW, The Number Fest, Parklife, AWOL, BeatPatrol, TomorrowWorld and Counterpoint. You may have even been watching 'Love & Hip Hop New York' and overheard their smash single, "Poppin' Off" from their freshman album Anatidaephobia. WTD most recent project The Trojan Horse EP (released on Dim Mak/Epic Records) is Executive produced by Pharrell Williams, T.I., Steve Aoki and Tricky Stewart.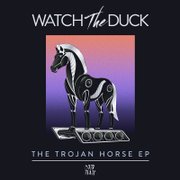 These guys are making their monumental imprint in the music world!
As a matter of fact, we got a chance to have what was called an "interview" that surely turned into a great chat with the Atlanta-based group in anticipation for their major performance at the 1st Annual Shaky Beats Music Festival.
The interview took place over the phone with Eddie and Jesse as they both came to a stopping point in their busy day.
(ice breaker moment via phone)
Ke'Ke: (in the heaviest Texas accent ever) So, how's everybody doing today!?
(a brief silence as they mustard up a response after probably going def in one ear)
WTD: (Eddie starts the conversation off with good enthusiasm) Yeahhh, we're doing real well.
Ke'Ke: Have you all been doing a lot of traveling?
WTD: (in LA at the present time) We've been doing a lot of traveling... actually just walked through the door.
Ke'Ke: Did you all do SXSW this year? When the last time ya'll been to Houston?
WTD: Yes. It's been a while.. We went to Houston after SouthBy, we were kinda in and out. We didn't get a chance to hit up all of our normal spots, but we did hit up Frenchy's. (laughter)
Ke'Ke: How did the relationship with Matthew Knowles and Bey come about?