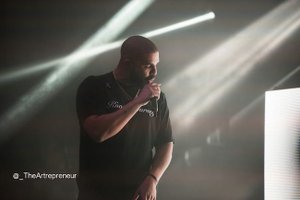 SXSW is not just a festival institution, its the festival for many an up and coming artist or established acts waiting for the perfect moment and audience to create moments of surprise. For many of the festivals newest warts, namely a large influx of people who show up just to party on 6th Street, there's still a bit of charm in some of the festivals more pristine showcases. The FADER Fort, presented by Converse yielded some of the festivals best performances such as Tory Lanez doing his best to crowd surf and walk on hands, G.O.O.D Music artist Desiiigner attempting his best to brush away all comparisons to Atlanta rapper Future, Metro Boomin & DJ Esco holding court and the surprise of all surprises, Drake holding his first SXSW showcase as the cap to this year's FADER Fort.
What SXSW means to a lot of acts, both novelty and established is a chance to capture an audience without the cache of a tour. Wristbands and RSVPs make for far more intimate locales, more interaction and a stronger rapport with your core audience. People plan entire Spring Breaks around hitting Austin, around seeing certain acts and making new discoveries. It may be the only time someone who is a fan of Lil Yachty in Texas may see him in his nubile state before growing to something bigger and better.
SXSW 2016 will be remembered for many things, the clips of certain rappers, singers and other artists tearing 6th Street down. That it would be the last SXSW using the Austin Music Hall as a venue as its set to be torn down and replaced by high priced condominiums. Most of all, it will be the last SXSW for The Illmore, the after hours party collaboration between IllRoots & Scoremore. It went out with a bang as Jazz Cartier literally performed from the ceiling, Kehlani soothed and awed fans and the makeshift photo booth.
To see some of the best photos from SXSW, see the photo gallery below.
Photo Gallery
SXSW 2016