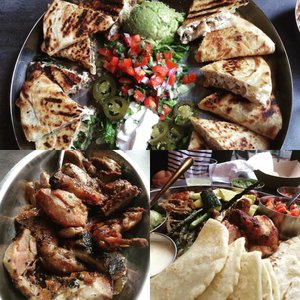 Guess what happens when a well renowned chef, restaurateur, and Houston Native partners with a friend who has a thriving restaurant with an amazing concept? Houston wins! That's what happened when Chef Jeff Black teamed up with Tacos A Go Go owner Sharon Haynes to create a Dine-In, Delivery, Take-out, and Catering eatery that serves premium Tex Mex seven days a week.
Strategically located in the heart of our city at 5404 Kirby Drive, Fajitas A Go Go is proving that their menu selection of hormone-free, antibiotic-free chicken, certified Angus beef, wild-boar sausages with all the fixings are keeping customers coming back for more. Moreover, Chef Black does not use soy sauce or msg. to flavor the meat, and he uses fresh seasonal vegetables, which are purchased locally when possible.

On a recent visit, we had the opportunity to sit down and enjoy a few dishes from the menu. First of all, we started with the fresh chips and salsa, and take it from someone who eats salsa with almost everything; their salsas pack a punch in flavor, spiciness, and pairing well with the meal. Before all the chips disappeared, the Queso Blanco had made an appearance, which was the best blending of flavors with the creamy cheese and peppers.

Secondly, the fajitas made it to the table on a platter that contained skinless chicken, beef, roasted vegetables, sausage, and quail. Furthermore, the homemade tortillas which were hot off the grill wrapped beautifully around the plethora of steaming meat and vegetables while complimenting the texture to the food.
This establishment is living up to the expectations and standards established by their Executive Chef. "Houstonians' taste buds deserve an upgraded fajita experience," says Black, who operates five award-winning restaurant concepts in Washington D.C. under Black Restaurant Group. "Making everything in house from fresh, seasonal ingredients ensures a heightened dining experience, specifically one you can have at home. We are taking customer service capabilities to a higher level by having full control in every step of the process, including delivery."
Furthermore, in addition to the savory bites, "Fajitas A Go Go sells and delivers a variety of local Texas and Mexican beer including Brazos Valley Silt Brown Ale, St Arnold's Santo, Buffalo Bayou Sam's Daily, Pacifico, and Negra Modelo. The restaurant also offers a house-made agave margarita mix with freshly squeezed lime juice…you just add the tequila."
I hope your mouth is watering, if so, Fajitas A Go Go is open Monday thru Sunday from 11 a.m. until 9 p.m. To view their full menu go to www.fajitasgogo.com.
Thanks for reading! Please continue to follow Houston Style Magazine on Twitter and Instagram. Also, feel free to go to our website www.stylemagazine.com and share this article and others of interest to you.