The 'magical' Camp for Children Whose Parents Have Cancer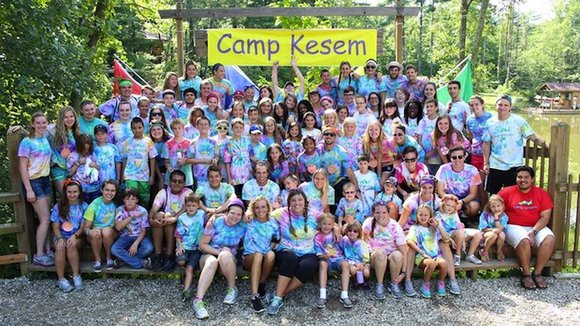 By Kelly Wallace
CNN
(CNN) -- When Abigail "Abi" Yates was 10 and her father was battling a rare blood disease, her parents told her they were sending her to a special summer camp.
She cried.
"I did not want to go. I didn't know anybody. I was like, 'Why do I have to do this?' " Abi said. "And, at the time, I didn't understand the severity of my father's illness, either. ... I just knew that something was wrong and I had to go to this camp, so I didn't know what to expect."
Her sister Sophie, then 6, also wasn't happy about it. "If Abi didn't want to go, she didn't want to go, either," said Jennifer Yates, their mother.
Yates had seen a flyer for the camp in an oncology office in Bloomington, Indiana. It was advertising a pilot program at Indiana University called Camp Kesem, which was providing free week-long summer camps for children across the country whose parents had been diagnosed with cancer or have died from the disease. They would be fueled by volunteer college students working to give these children the best summer they could hope for.
Yates didn't think her kids would qualify because her husband had a rare blood disease called aplastic anemia and was not diagnosed with cancer. But when she called, they welcomed her children with open arms.
"The impact of that first Camp Kesem experience was profound," she said.
When she and her husband went to pick up the girls, they did not want to leave. "My husband and I were just sobbing, in tears ... because they had had fun, and I didn't remember, really, the last time that they were laughing like that and just really had an easy time," Yates said.
Another surprise was the Camp Kesem policy that any camper who attends is guaranteed a spot the following year if they want to return.
"That turned it for me where I said, 'Oh, my God, this is going to be the best week of their lives every year,' " Yates said.
Abi and Sophie have now been going to Camp Kesem every year since 2005, and Abi became head of the Indiana University Camp Kesem chapter during her time at the college. She has now been hired to work full-time for the camp and is the first camper to become a member of the professional team.
"Kesem definitely gave me a family that I didn't know I really needed," said Abi, now 22. "They were all going through something really terrible and through something so awful, we were all given this beautiful gift of a common understanding and a group of people that were really a family for life."
An opportunity to be a kid again
Camp Kesem was founded in 2000 by Iris Ravé Wedeking, a lifelong camper who was looking to create a program that college students could really plan for and build, said Jane Saccaro, Camp Kesem's chief executive officer.