Harris-Stowe State Receives $399,000 Grant to Establish Black Male S.T.E.M. Initiative
rant of nearly $400,000 presented to Harris-Stowe State University as part of Verizon's Innovative Learning Program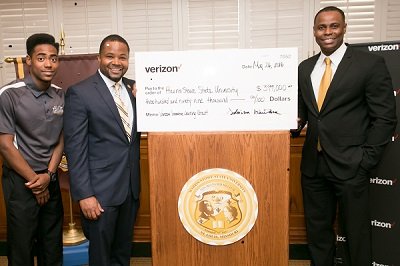 Verizon has awarded Harris-Stowe State University (HSSU) with a grant of $399,000, bringing the wireless company's Innovative Learning program to St. Louis. This summer, the initiative will send minority middle-school boys to local college campuses for STEM (science, technology, engineering and math) education. The first-of-its-kind, two-year program introduces students to concepts like coding software, 3D printers and building presentation skills.
"Verizon's Innovative Learning initiative links two of Harris-Stowe's key programs – promoting STEM achievement and positively influencing young men," said Dr. Dwaun J. Warmack, president, Harris-Stowe State University. "This program uses mobile technologies and 3D Innovatives to spark boys' imaginations, providing them with essential skills and the confidence to fully participate in future digital opportunities."
Harris-Stowe is partnering with five middle school districts including, Riverview Gardens, Jennings, Normandy, Ferguson/Florissant and St. Louis Public Schools to fill the Innovative Learning program. The summer program at Harris-Stowe consists of two, two-week sessions of classes held four days a week. Middle school students are also paired with HSSU scholars, including members of the university's Black Male Initiative (BMI), who serve as mentors for continued learning and support throughout the school year.

Established in 2014, BMI is intentional in its mission to develop boys and young men professionally, academically, socially and ethically. The first session begins July 11 and the second begins July 25. Those interested can register online via the Harris-Stowe website. There is space for approximately 100 students.
"The Innovative Learning program provides these young men with STEM skills, creating awareness and visibility into a future they may have never considered," said Justina Nixon Saintil, director of Education Programs at Verizon. "Our hope is these students will continue developing their abilities and interest to go out and change the world."
The Innovative Learning program began with only four colleges in 2015 and reached more than 470 middle school boys. The students designed and created more than 580 products including apps and 3D printed objects, increasing mobile technology proficiency and interest in STEM careers. Now in the second year of the program, eight additional Historically Black Colleges and Universities have joined the cause, including Harris-Stowe State University.
About Harris-Stowe State University
Harris-Stowe State University (HSSU), located in midtown St. Louis, is a fully accredited four-year institution that offers 31 majors, minors and certificate programs in education, business and arts & sciences. In 2014, HSSU ranked No. 1 in the state of Missouri and No. 47 in the nation in granting degrees in mathematics and statistics to African Americans according to Missouri Department of Higher Education and Diverse: Issues In Higher Education, a news magazine that has ranked institutions conferring the most degrees to minority students for the past 30 years. Harris-Stowe also ranked No. 28 among the 2016 Top HBCUs in the country according to Niche, an online content provider of reviews and insight on more than 1,100 colleges nationwide. The University, which has origins dating back to 1857, offers the most affordable bachelor's degree in the state of Missouri. Visit www.hssu.edu for more information.
About the Verizon Foundation
The Verizon Foundation is focused on accelerating social change by using the company's innovative technology to help solve pressing problems in education, healthcare and energy management. Since 2000, the Verizon Foundation has invested more than half a billion dollars to improve the communities where Verizon employees work and live. Verizon's employees are generous with their donations and their time, having logged more than 6.8 million hours of service to make a positive difference in their communities. For more information about Verizon's philanthropic work, visit www.verizon.com/about/responsibility; or for regular updates, visit the Foundation on Facebook (www.facebook.com/verizonfoundation) and Twitter (www.twitter.com/verizongiving).
Source: hssu.edu