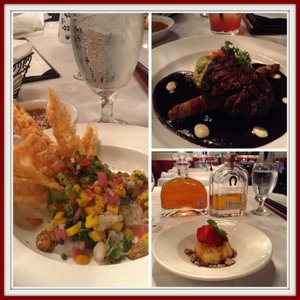 There is a dining treasure in the Galleria area of Houston, which is a plus to one of the busiest districts in our city. Añejo Tex Mex Restaurant located at 1108-1 Uptown Park has ample parking, an elegant but relaxed atmosphere, and delicious Tex-Mex Cuisine served by award winning Chef Alberto Gutierrez who has over 20 years experience in the culinary arts.
Furthermore, since last weekend National Tequila Day was celebrated on both Saturday and Sunday, I was treated to the Ultimate Tequila Experience and received a thorough history lesson in the unique craft of tequila making while tasting some of the top of the line brands.

First of all, Añejo only uses tequilas that are made with 100 % agave. Additionally, they infuse some of the tequilas that are used in their restaurant with a variety of flavors to make a wide range of cocktails.

The tasting began with a Berry Infused Margarita, which I enjoyed with an appetizer portion of the Green Pork Pozole, which is made with roasted pork, hominy, cabbage, radish, mild jalapeno-cilantro broth, served with lime, onion & tortillas. The spicy flavors of the soup blended well with the fruity taste of the margarita, which had a little heat in the finish almost like a "red hot" candy.
While the next dish was being prepared, two beautiful glasses made their appearance, one contained Campeón Silver, which is described as "Floral and Earthy on the nose with light caramel undertones on the palate with a touch of cracked white pepper." The other glass held a sample of Clase Azul Reposado, which is noted as "Caramel, vanilla, a touch of pepper on the back of the tongue." Both of these paired well with the Sea Bass Ceviche that was garnished with some ample bites of house-made Chicharróns.

The next plate came from the "wood-burning grill", a petite tenderloin, served with queso-fresco rice, bacon wrapped asparagus centered beautifully in a chipotle cream sauce. The meat was tender, lean, and packed with a rich smoky taste. This dish was sampled with Milagro Barrel Reserve Anejo, this tequila had a chocolate, vanilla and oak aroma while the taste was sharp with a smooth finish.

Finally, the best is last, but is not the least of the group, the Herradura Selección Suprema and the Gran Patron Burdeos samples arrived just as the flan made its appearance. The tequilas accentuated the vanilla, caramel, and honey flavors of the dessert; it was like having a food dance in harmony on the palate.
Thank you to General Manager Sara DiCenso, Chef Alberto, and Brand Ambassador Scott for their time and warm hospitality. Go to: www.anejotexmex.com to see their full menu, and visit them real soon.