Obama Welcomes Leader of Mexico Day After RNC Ends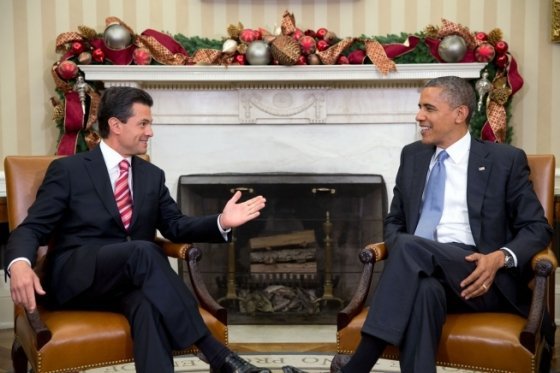 By Kevin Liptak
CNN White House Producer
WASHINGTON (CNN) -- President Barack Obama has invited one of Donald Trump's fiercest global critics for talks a day after the businessman formally accepts the Republican presidential nomination.
Obama will be receiving Mexican President Enrique Peña Nieto in the Oval Office on Friday for talks on trade, climate change and countering drug trafficking.
Though the GOP candidate isn't officially on the agenda, the traditional post-meeting press conference will provide a forum where both leaders will likely unleash their thoughts on the newly anointed nominee.
It's the latest evidence of Mexico's outsized role in the US presidential election, where opinions and bombast about America's southern neighbor have both generated outrage and galvanized voters.
Trump has been unapologetic after his campaign's opening salvo about Mexican immigrants, declaring the country was "sending people that have lots of problems, and they're bringing those problems with us. They're bringing drugs. They're bringing crime. They're rapists."
He's also suggested a policy of mass deportations for the estimated 11 million undocumented immigrants in the US, and has shunned Obama's stalled plan to offer deportation relief to some of those immigrants.
And he has made a centerpiece policy of his campaign erecting a border wall to keep out undocumented immigrants -- and making Mexico pay for it.
In response, current and former Mexican leaders -- Peña Nieto among them -- have been outspoken in their dislike for Trump and his language about their nation.
Unlike some more cautious international figures, Peña Nieto hasn't tempered his comments about Obama's possible successor, comparing the Republican to World War II fascist dictators Adolph Hitler and Benito Mussolini. And he didn't back away from that comparison when he stood alongside Obama three weeks ago in Canada after a summit of North American leaders.
Decrying leaders who "choose the road toward isolationism and destruction," Peña Neito said, "Hitler and Mussolini did that."
He continued, "The outcome, it's clear to everyone -- it resulted in devastation, and it turned out to be a tragedy for mankind. And we saw it last century."
Obama hasn't gone that far in his warnings about Trump, though he has alluded to "shameful" periods in American history when pushing back against the Republican's positions. Asked in April about Trump's plan to seize remittances sent from Mexicans in the United States back home, Obama called the proposal "just one more example of something that is not thought through and is primarily put forward for political consumption."
"Good luck with that," he scoffed.
It's rare for Obama to meet with the same world leader within a three-week span, though officials distinguish between the North American Leaders' Summit held at the end of June -- which also included Canadian Prime Minister Justin Trudeau -- and one-on-one talks held at the White House. Peña Nieto last visited the White House in January 2015.
During their bilateral talks on Friday, Obama and Peña Nieto are expected to discuss ways to bolster trade and better counter drug trafficking along the southern border. But even if Trump doesn't arise specifically in their meeting, aides acknowledge that almost all of the issues they discuss could be seen through a political lens.