Ertan Digestive Disease Center Thanks its Generous Donors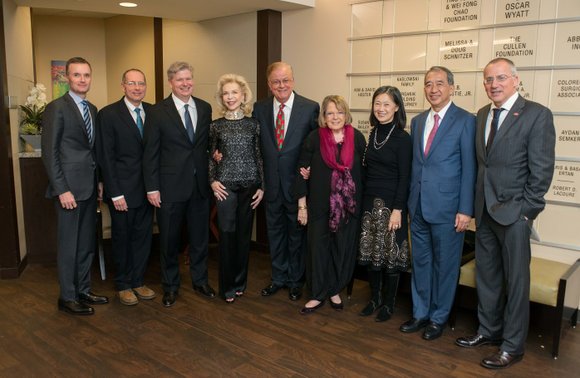 HOUSTON (July 22, 2016) – The Ertan Digestive Disease Center, a Gastroenterology Center of Excellence at Memorial Hermann-Texas Medical Center (TMC) and McGovern Medical School at UTHealth, recently held a cultivation and 'thank you' event for their donors. A generous donation was received from the Ting Tsung & Wei Fong Chao Foundation to endow the Directorship at the Center. Charitable donations were also received from David and Jennifer Tudor, and Melissa and Doug Schnitzer. Lynn and Oscar Wyatt have previously donated $1.2 millon. Over $3.5 million in donations will benefit the Ertan Research and Education Fund, which helps maintain the furthering of research and post-graduate education in gastroenterology (GI) and hepatology.
"We are extremely grateful for all contributions to the Ertan Digestive Disease Center of Excellence," said Atilla Ertan, M.D., Medical Director of the Center and professor of gastroenterology, hepatology and nutrition at McGovern Medical School. "Our multidisciplinary team of specialized physicians wouldn't be able to further cutting-edge research and provide the most effective treatments for patients suffering from complicated digestive and liver diseases without the help of these kind donations from the community."
Names in attendance at the event included: Barbara Stoll, M.D., dean of McGovern Medical School; Giuseppe Colasurdo, M.D., President and Alkek-Williams Distinguished Chair of UTHealth; Craig Cordola, Senior Vice President and Regional President for the Central/West Region for Memorial Hermann Health System; Brian Dean, Senior Vice President and CEO of Memorial Hermann-TMC; Richard Andrassy, M.D., Chairman of Surgery of McGovern Medical School; Michael Fallon, M.D., Gastroenterology Division Chief at the GI Division and Dan and Lillie Sterling professor of gastroenterology at McGovern Medical School; Erik Wilson, M.D., Medical Director of Bariatric Surgery at Memorial Hermann-TMC and professor of surgery at McGovern Medical School; Ileana Treviño, Executive Vice President and CEO of the Memorial Hermann Foundation; Anne Chao, Ph.D., and Mr. Albert Chao; Lynn Wyatt; David and Jennifer Tudor; Doug Schnitzer; and many others.
Dr. Ertan has achieved national and international recognition as an outstanding clinical scientist, educator, researcher and administrator. As a leading source in GI and hepatology, the academic team at the Center is frequently called upon to educate in local, national and international meetings about the field's discoveries, studies and general knowledge. The Center provides comprehensive medical and surgical treatment for patients with diseases of the esophagus, stomach, intestine, pancreas, biliary tract and liver. They also deliver expert management, up-to-date treatment and innovative solutions for patients with all forms of digestive disorders, and continually work to enhance patient quality of care as well as improve quality of life for the patient population.
For more information on how you can support the Center, please visit the Memorial Hermann Foundation website.