Attack in Nice: New Terror in France Months After Mass Shooting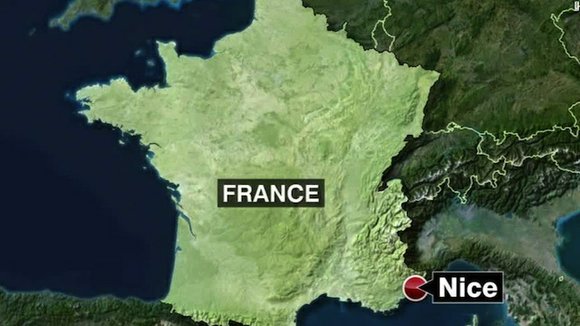 By Faith Karimi
CNN
(CNN) -- First, it was a magazine office and a kosher food market. Then a concert venue, football stadium and terrace restaurants. Now it's the seaside city of Nice.
Since the beginning of last year, terrorists have targeted France in a series of shootings and bombings mostly aimed at social scenes, including a November massacre that killed at least 130 people.
Before a truck rammed through a crowd in the beach city of Nice on Thursday night, leaving more than 80 people dead, previous attacks shared one connection: the claims of responsibility by Islamist extremists.
While it's unclear who was behind the attack in Nice, it occurred on a French national holiday, Bastille Day, largely considered France's Independence Day.
It struck at the heart of a city considered a tourist hotspot for its beautiful beaches and vibrant crowds.
And like previous attacks, it left a stunned nation reeling from yet another mass killing and its people asking: Why France again?
Attack in Nice
The latest, horrifying attack on French soil was carried out by a man driving a truck in Nice on Thursday.
Hundreds, if not thousands, of people were out in the streets, celebrating Bastille Day with fireworks and a beachfront concert.
After the last firework fizzled, an apparent lone driver in a large white truck first opened fire into the crowd before plowing through horrified tourists and residents along one of the city's main thoroughfares.
Although the road was cordoned off, the man drove for more than a mile along the crowded waterfront before police shot him.
The dead included several children.
No one has claimed responsibility for the attack.
November attacks
Not too long before the attacks in Nice, France was in mourning and under a state of emergency after terrorists targeted a crowded concert hall, a football stadium and terrace restaurants in Paris on November 13.
The attackers, armed with assault rifles and explosives, targeted six locations across the city.
In the deadliest of the incidents, three attackers raided the Bataclan concert venue and opened fire during a performance by the U.S. band Eagles of Death Metal. They fired on people as they lay on the floor, writhing in pain from gunshot wounds.
By the time French police stormed the building, at least 89 people were dead.
Another attacker targeted a soccer stadium in a suburb north of Paris, where French President François Hollande was watching France play Germany -- but he was safely evacuated.
Other terrorists stormed four restaurants in Paris, firing assault weapons on people sitting on the terraces, eating and drinking.
In all, at least 130 people were killed and hundreds more wounded.
French officials said the ringleader was a Belgian of Moroccan descent who lived in Brussels. He was killed in a police raid in a Paris suburb three days after the attacks.
ISIS claimed responsibility.
Magazine office attack
The three days of terror started with a massacre at the offices of the satirical magazine Charlie Hebdo on January 7 last year -- followed by an intensive hunt for the attackers.