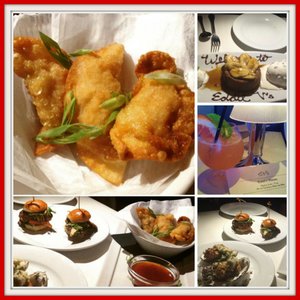 We are in the throes of a long hot Houston summer, and relaxing while cooling off makes the top spot on a lot of our to-do lists, followed by lighter meals and refreshing cocktails. At Eddie V's located at 2800 Kirby, their Happy Hour menu is creating a lot of buzz with their delectable sliders, mini-tacos, signature drinks, live music and decadent desserts.
On a recent visit after a long day at work, my guest and I sat down and experienced the impeccable service, courteous and attentive staff while enjoying a selection of savory bites from the kitchen at Eddie V's. We started with one signature cocktail each, specifically, "The Real McCoy," which is made with 3-year aged Silver Real McCoy Rum, grapefruit and fresh lime. First of all, I feel strongly that this is the "drink" I've been looking for; I wanted six of them, but I slowly slipped on one tasty glass full. It was light, refreshing; the citrus gave this libation an excellent crisp finish in my opinion.
While we enjoyed our drinks, the first appetizer arrived, which was the Lobster and Crab Wontons. They were lightly battered, fried, and served with a small side dish of spicy red pepper jelly. The lobster and crab meat tasted fresh; the red pepper jelly complimented the sweetness of the shellfish. Furthermore, while we made the crispy bites of seafood disappear, the Carpetbagger Oysters arrived. They were served fried with seared tender loin and blue cheese. This was a clever combination of textures, paired with a sharp salty flavor that was balanced after clearing the palate.
After finishing off the seafood bites, the Beef Banh Mi Sliders made an appearance on our table. This was a delectable pair of marinated filets, pickled cucumbers and a variety of stir-fried vegetables. Lightly toasted bread, tender meat, and crunchy vegetation made a small bite very filling. Therefore, when one is quite full there in nothing left to do but to try the Blackened Fish Tacos, which are made with "house-made tortillas, micro greens, and roasted corn pico." Our mouths were quite pleased with this dish, the flavors of the fish and vegetables paired well on this savory plate.
Finally, we ended our evening with a cup of house coffee and dessert. The Hot Bananas Foster Butter Cake and Butter Pecan Ice Cream were more than enough for two people, sweet and decadent, but combined well with the robust taste of the java.
To view Eddie V's full menu and to find the location nearest you, go to: eddiev.com.
Thanks for reading, please follow Team Style Magazine on Twitter and Intstagram.
Moreover, visit our website at: stylemagazine.com share this story and any other articles located on our site.