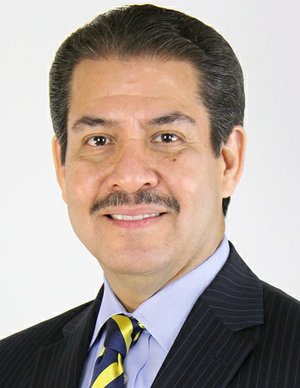 Houston, Texas – The largest GLBT political leadership organization in Houston endorsed Adrian Garcia for Congress yesterday by a general membership vote of 136-2, citing the discriminatory votes Gene Green has taken in Washington, and praising former Sheriff Adrian Garcia's strong, progressive record on GLBT rights.
"Adrian Garcia has supported our community for years. As Sheriff, he created the GLBT liaison program, which acted as a point of contact and spokesperson when anything GLBT-related arose – a program his successor has ended. His leadership has been nothing short of exemplary, and we are proud to endorse him for Congress. On the other hand, Gene Green has been inconsistent at best, he is one of just five Congressional Democrats who voted in 2011 to deny federal benefits to gay couples," said Maria C. Gonzalez, former president of the Houston GLBT Political Caucus and a member of the Screening Committee. "Green has repeatedly stood against us, and voted to deny gay couples the right every other American enjoys by voting to uphold for the Defense of Marriage Act. I guess he doesn't think everyone deserves to have a job and make a living."
"Sheriff Garcia has never had to evolve on GLBT equality--whether it was his reforms in Harris County Jail for GLBT people or his support for HERO, the record is clear," said GLBT Activist and Former City Council Candidate, John C.B. LaRue. "He is always out working and meeting people in our community –both the GLBTcommunity and our Houston communities in general – I believe he will be a great grassroots voice for all people in the 29th Congressional District."
"I'm proud to have the endorsement of the GLBT caucus in my campaign forCongress, and they will have my full support in Washington," said Adrian Garcia. "Everyone knows how personal this issue is for me. My brother Gilbert was a gay American and suffered discrimination, and his experiences influenced me greatly. But whether any of us has GLBT relatives is ultimately less important than our individual and collective commitment to justice."
"Defending diversity and advocating for inclusion has always been important to me," added Garcia. "As your former Sheriff and as a police officer for 23 years, I have always believed no one is above the law. I also believe no one is beneath the law's protection. Every American has rights and deserves equality, dignity, and yes, protection under our laws and Constitution. I will continue to fight for GLBT equality in Washington, and be a voice for us all."
"GENE GREEN SIGUE VOTANDO CONTRA LOS DERECHOS CIVILES DE GLBT"
La Junta Política GLBT Houston respalda a Adrián García para el congreso
Houston, Texas - La organización más grande de GLBT en Houston apoya a Adrián García para el congreso ayer por una votación general de miembros de 136-2, citando los votos discriminatorios que Gene Green ha tomado en Washington, y alabando el sólido historial del ex alguacil Adrián García y su record progresivo sobre los derechos de GLBT.
"Adrián García ha apoyado a nuestra comunidad durante años. Como Alguacil, creó el programa de enlace GLBT, que actuó como un punto de contacto y portavoz cuando algo relacionado con GLBT salía- un programa que su sucesor terminó. Su liderazgo ha sido nada menos que ejemplar, y estamos orgullosos de apoyarlo para el Congreso. Por otra parte, Gene Green ha sido inconsistente, él es uno de sólo cinco demócratas del Congreso que votaron en 2011 para negar beneficios federales a las parejas homosexuales," dijo María C. González, ex presidente de la Junta Política Houston GLBT y miembro del Comité de Selección. "Green se ha salido en repetidas ocasiones en contra de nosotros, y votó para negar a las parejas homosexuales el derecho que todos los otros Americanos gozan votando para mantener la Ley de Defensa del Matrimonio. Supongo que no cree que todo el mundo merece tener un trabajo y ganarse la vida."