Isabelle Grace Jewelry Goes Pink for Breast Cancer Awareness
20% Of Proceeds In October Goes To The American Cancer Society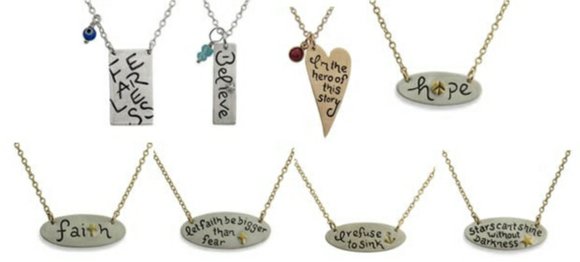 October is the month when everyone goes pink to support Breast Cancer awareness and those who have or are fighting the life-changing diagnosis, and that includes Isabelle Grace Jewelry. During Breast Cancer Awareness Month, they will donate 20% of the proceeds from the items featured below to the American Cancer Society.
Being tough and strong and having faith, that's what these motivational pieces encourage and celebrate:
Fearless Necklace, Believe Necklace, Hero Necklace, Hope Pendant Necklace, Faith Pendant Necklace, Let Faith Be Bigger Than Your Fear, Refuse to Sink, and Stars Can't Shine. Each retails for $72.

Other motivational pieces that truly make a statement include the FCancer Hashtag Necklace ($62), Fighter/Survivor Hashtag Necklace ($62), The Survivor Necklace ($65) and the Hope Necklace ($65).
Isabelle Grace Jewelry also has an entire selection dedicated to supporting Breast Cancer awareness, warriors and survivors. The Breast Cancer Collection includes:
Items that are simple elegance with the Pink Lux Bar Necklace ($19), Pink Lux Nugget Necklace ($25), Pink Lux Leather Bangles ($68) and the Pink Lux Mini Bangle Set ($45).
Items that are pink and shiny and sure to capture attention with the Rose Gold Cross Necklace ($29), Rose Gold Floating Initial Necklace ($32), Rose Gold Bead Necklace ($36), Rose Gold Hammered Bar ($46), Swarovski Stackable Gemstone Bangle in Blush Rose ($36), Swarovski Studs in Blush Rose ($28) and the LaPunta Necklace in Rose Gold & White Aurora ($68).
Items that are simply fashionable with the Breast Cancer Butterfly Necklace ($42), Simple Cross Bracelet ($42), Knots Over You Necklace in Rose ($46) and the Pink Gemstone Bar Necklace ($56).
Whether you're looking for the simplicity of a silver engraved necklace or the elegance of a designer jewelry collection, Isabelle Grace Jewelry is the ultimate destination for truly unique, handcrafted jewelry. Made from sustainable materials whenever possible, each Isabelle Grace piece is uniquely crafted by local artisans.
When accessorizing with Isabelle Grace Jewelry you're in good company with Hollywood's hottest leading ladies, including devoted fans Katherine Heigl, Lindsay Price and Alyson Hannigan.
Find your perfect piece for every season and every reason by visiting Isabelle Grace Jewelry. Follow Isabelle Grace Jewelry on Facebook, Twitter and Pinterest.