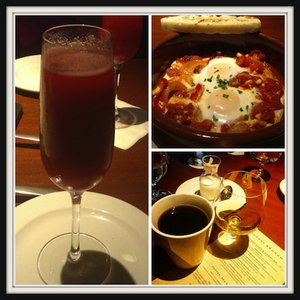 A great start to any day is a good healthy breakfast, but on the weekends when a lot of us can sleep past the wee hours of the morning, having brunch is even better. For those who choose not to sweat over a stove for our first meal of the day, Houston is filled with wonderful choices for dining away from our home kitchens.
This past weekend my guest and I ventured out to Season's 52 in City Center; a warm, friendly, and knowledgeable staff greeted us. Before the actual meal, we toured the luxurious dining rooms, public and private. The space is open and is designed in the style of the late architect Franklin Lloyd Wright.
Our tasting began with Peach and Raspberry Prosecco Bellinis; these cocktails were mild, refreshing, and light. The raspberry was my favorite, mainly because of the rich color, the slight tart flavor of the berries, which balanced the subtle sweetness of the bubbling wine.
After our refreshments went "missing," we sampled the Shashuka and the Brick Oven Brioche French Toast. The savory of the two dishes is made with "pasture raised eggs baked in a sauce of sweet peppers, tomatoes, chorizo and crumbled feta." Needless to say, they had me at chorizo, which is spicy Mexican pork sausage. If you're an egg lover, this dish is for you; the only thing lacking for me was that I wanted more eggs and more chorizo.

However, the French Toast delivered the perfect balance of sweetness and decadence. The blueberry infused syrup combined with the whiskey smoked brown sugar pecans gave this plate a unique flavor that made me feel like it was Christmas. Additionally, we tried the grilled chicken skewers that were served with a light corn salsa and micro greens. The meat was lean, with a slight smoky taste, which blended well with the vegetable garnish. Shortly thereafter, we were introduced to the mini dessert cups, which were a variety of custards, chocolates, caramel, citrus, and cherries depending on your choice. I grabbed the key lime pie, and my guest sampled one of the chocolate flavors.

Finally, we both indulged in a bold cup of coffee, and a little Hazelnut flavored liqueur called "Frangelico" which paired well with the dessert. Moreover, we were so pleased with the service, the ambiance, and the entire tasting experience. Our hosts, Sales Manager Frederick, Beverage Manager Ray, and our server Rishad made us feel welcomed and appreciated. Keep up the good work!
To find the Season's 52 near you go to www.seasons52.com you can also view their entire menu.

Thanks for reading; please visit our website www.stylemagazine.com feel free to share this article and any others located on our page.