Astros to Dedicate Press Box in Honor of Milo Hamilton
Ceremony scheduled for 2 p.m. on Monday (Opening Day)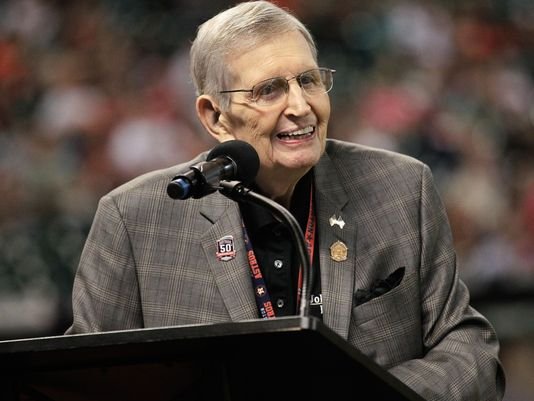 HOUSTON, TX – The Astros will host a brief ceremony at Minute Maid Park to dedicate the press box to the memory of Hall of Fame broadcaster Milo Hamilton, who passed away in September of last season.
As part of the ceremony, which will be held on Monday, April 11 at 2 p.m. in the press box, the Astros will unveil a wall display honoring Hamilton. Milo's son, Mark Hamilton, will take part in the ceremony along with Astros President of Business Operations Reid Ryan and several others.
After Hamilton's passing last season, Ryan announced that the press box would be named in his honor.
Hamilton's 60 seasons of broadcasting Major League Baseball are second all-time to Vin Scully's record of 66 seasons. Although he broadcast for other clubs, Hamilton is best known for his long tenure as the radio voice of the Houston Astros. Hamilton joined the Astros radio broadcast team in 1985, and would remain as the primary, play-by-play voice until his retirement following the 2012 season. Following his retirement, Hamilton served as a guest radio commentator for select Astros home games from 2013-15, with his final stint in the booth coming on June 28, 2015 during the Astros-Yankees game at Minute Maid Park.
Globally, Hamilton is widely-known for his radio call of Hank Aaron's historic 715th home run on April 8, 1974, while serving as the Braves play-by-play announcer. Hamilton and Aaron had a special bond that remained intact long after he left the Braves organization. When the Astros honored Hamilton's career with a special night in 2012, Aaron made the trip to Houston to speak at the event.
Other highlights from Hamilton's illustrious career include calling 11 no-hitters and serving as the play-by-play announcer for the 1979 World Champion Pirates ballclub.
Calls from his Astros career that are immortalized in franchise history include Nolan Ryan's 4,000th career strikeout, Craig Biggio's 3,000th hit, Chris Burke's historic, 18th-inning walkoff home run in Game 4 of the 2005 National League Division Series and the Astros pennant -winning, Game 6 victory at St. Louis in the 2005 NLCS. Hamilton also called the Astros record-setting, six-pitcher no-hitter at Yankee Stadium in 2003.
In 1992, Hamilton received the broadcasting industry's highest honor, receiving the Ford C. Frick Award from the National Baseball Hall of Fame. Overall, he was inducted in to six Halls of Fame during his illustrious career.
For more information, visit astros.com