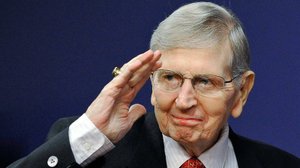 his 25th season in Houston, a street outside Minute Maid Park was renamed Milo Hamilton Way by the City of Houston. Later that year, Hamilton was named "King of Baseball" by Minor League Baseball at the Annual MLB Winter Meetings.
Outside the broadcast booth, Hamilton became known for his fine work as a master of ceremonies at Astros-related events and celebrations, including several pregame, player retirement ceremonies. He also served as the host of the Astros Opening Day ceremonies each year, even taking part in the 2015 Opening Day festivities in a reduced role.
For many years, Hamilton also served as the host of the Astros long-running, offseason radio talk show, Astroline, which he hosted up until 2014. Hamilton was also a staple on the Astros Winter Caravan each season, entertaining fans at dozens of locations, with stops as far as Corpus Christi.

"We were extremely fortunate to have Milo as a part of our organization," said Astros Owner and Chairman Jim Crane. "An entire generation of Astros fans grew up listening to Milo. He truly is an icon and was synonymous with Astros baseball for many years. Milo was a great asset not only for the Astros, but also for the City of Houston as well."
HALLS OF FAME FOR "THE CAPTAIN" MILO HAMILTON
-National Baseball Hall of Fame (Ford C. Frick Award) - 1992
-Texas Baseball Hall of Fame -1994
-Radio Hall of Fame - 2000
-Texas Radio Hall of Fame - 2005
-Iowa High School Baseball Coaches Hall of Fame - 2011
-Des Moines Sunday Register's Iowa Sports Hall of Fame - 2014
MORE ACCOLADES THROUGHOUT THE YEARS
-Inducted into the Houston Media Wall of Honor prior to the Astros game on Sept. 2, 2012, on what was 'Milo Hamilton Day' at Minute Maid Park (was his 85th birthday).
-Inducted into the Astros new Walk of Fame in 2012, with his plaque being placed on the Texas Ave. sidewalk outside Minute Maid Park.
-In April of 2009, in recognition of his 25th season with the Astros, the City of Houston renamed a street outside of Minute Maid Park as 'Milo Hamilton Way.'
-In December of 2009, earned Minor League Baseball's prestigious "King of Baseball" award, presented each year at the MLB Winter Meetings.
-Presented with the Fred Hartman Long and Meritorious Service Award by the Houston Chapter of the Baseball Writers Association of America in February of 2001.
For more information, visit astros.com