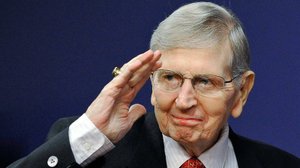 HOUSTON, TX – Astros Hall of Fame broadcaster Milo Hamilton passed away this morning in Houston. He was 88 years old.
Hamilton's 60 seasons of broadcasting Major League Baseball are second all-time to Vin Scully's record of 66 seasons. Although he broadcast for other clubs, Hamilton is best known for his long tenure as the radio voice of the Houston Astros. Hamilton joined the Astros radio broadcast team in 1985, and would remain as the primary, play-by-play voice until his retirement following the 2012 season. Following his retirement, Hamilton served as a guest radio commentator for select Astros home games from 2013-15, with his final stint in the booth coming this season on Sunday, June 28, during the Astros-Yankees game at Minute Maid Park.
Astros President of Business Operations Reid Ryan released the following statement regarding Hamilton's passing:
"Today, the entire Astros family and many throughout the baseball world are mourning the loss of our friend, Milo Hamilton. For decades, Milo had a special connection with the Houston community, bringing Astros baseball to the cars and homes of fans throughout the great state of Texas and beyond. During his legendary career, we enjoyed the privilege of Milo calling some of the greatest moments in Astros history. In addition to his great work in the booth, Milo was also an outstanding ambassador for Astros baseball, a mantle he carried with a great deal of pride. While we mourn his sad passing, we should also celebrate Milo's long, wonderful career. He was one of the all-time greats and a true icon whose contributions to the game and beyond will be remembered always. "
The Astros will announce plans to honor Hamilton's legacy in the near future.
Prior to arriving in Houston, Hamilton's Major League broadcasting career included stints with St. Louis, the Chicago Cubs and White Sox, Atlanta and Pittsburgh.
Globally, Hamilton is widely-known for his radio call of Hank Aaron's historic 715th home run on April 8, 1974, while serving as the Braves play-by-play announcer. Hamilton and Aaron had a special bond that remained intact long after he left the Braves organization. When the Astros honored Hamilton's career with a special night in 2012, Aaron made the trip to Houston to speak at the event.
Other highlights from Hamilton's illustrious career include calling 11 no-hitters and serving as the play-by-play announcer for the 1979 World Champion Pirates ballclub.
Calls from his Astros career that are immortalized in franchise history include Nolan Ryan's 4,000th career strikeout, Craig Biggio's 3,000th hit, Chris Burke's historic, 18th-inning walkoff home run in Game 4 of the 2005 National League Division Series and the Astros pennant -winning, Game 6 victory at St. Louis in the 2005 NLCS. Hamilton also called the Astros record-setting, six-pitcher no-hitter at Yankee Stadium in 2003.
In 1992, Hamilton received the broadcasting industry's highest honor, receiving the Ford C. Frick Award from the National Baseball Hall of Fame. Overall, he was inducted in to six Halls of Fame during his illustrious career. In 2009, in honor of