Have a Stinkin' Good Time at Central Market's Inaugural "Garlic Fest"
Celebrate this essential yet tasty kitchen staple Sept. 16 – 29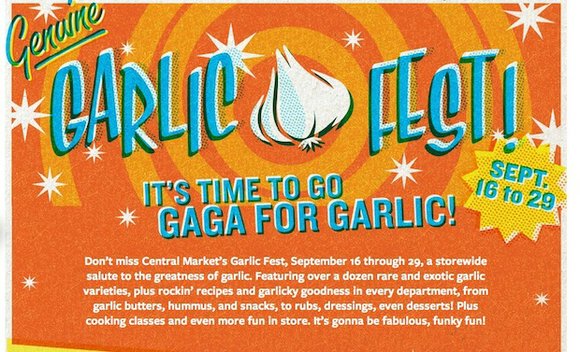 WHAT: Customers will go gaga for garlic this month at Central Market's first ever "Garlic Fest" Wednesday, September 16 through Tuesday, September 29. From sweet, fermented black garlic to full-bodied French pink garlic, shoppers will enjoy a host of flavorful offerings with more than 10 featured garlic varieties.
In addition to garlic varieties, Central Market will also show off the amazing versatility and flavor of garlic with an array of new products and recipes. From traditional garlic knots to unusual black garlic chocolate cupcakes, there will be something to satisfy any garlic lover's cravings and curiosities.
Some garlic-themed items include:
· Black Garlic Chocolate Cupcakes
· In House Roasted 100 Clove Roast Beef
· Enzo's Table EVOO Infused with Garlic
· Cheddar-Garlic Stuffed Burgers
· High Road Garlic Ice Creams
· And much more!
Garlic Recipes:
· Roasted Garlic and White Bean Puree Crostini
5 Fast Facts & Garlic Tidbits:
When picking out garlic at the grocery store, choose firm, tight, heavy, dry bulbs.

The smell of garlic can be removed by running your hands under cold water while rubbing a stainless steel object.

If your garlic has sprouted it is still usable, although it has lost some of its flavor and health benefits.

Garlic is a member of the Lily family, which also includes onions, leeks and shallots.

Garlic has several health benefits and medicinal properties. From legendary food lore, it is believed that garlic has wound-healing properties! During WWI, before the days of penicillin, soldiers used garlic extensively for this exact purpose.
WHEN: Garlic Fest
September 16 – 29, 2015
WHERE: Central Market
3815 Westheimer
Houston, TX 77027
Phone: 713.386.1700
SOCIAL
MEDIA: @CentralMarket, #ReallyIntoFood, #GarlicFest
ABOUT CENTRAL MARKET:
Central Market's open, serpentine-flow, full view European-style layout offers a completely new food shopping experience. A bountiful produce department with unmatched quality and variety, an 80-foot seafood case with selections from throughout the world, hundreds of cheeses, 2,500 wine labels, stupendous specialty grocery aisles with delights from every continent, and a world-class cooking school featuring hands-on instruction are among the features that make the Central Market experience unique. http://www.centralmarket.com.