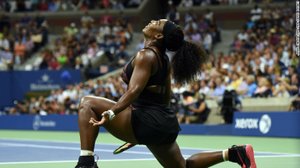 Motez Bishara
CNN
NEW YORK (CNN) -- It was the latest installment in the tennis battle everyone wanted to see: Serena vs. Venus.
As the Williams sisters faced off for the fifth time during their remarkable U.S. Open runs at Flushing Meadows, it was Serena who held off her big sister to win in three sets and book a place in the semi-finals.
A visibly emotional Serena appeared to hold back tears before serving an ace to end the match, winning 6-2, 1-6, 6-3.
"It's a really great moment, she's the toughest player I've ever played in my life and the best person I know," she said in an interview on court after the match.
"It's going against your best friend, and at the same time going against the greatest competitor for me in women's tennis. So it was really difficult today."
Although Venus was the underdog going into the match, she challenged Serena's dominance early on. After losing her serve twice in the first seven games to drop the first set, Venus came roaring back to win the second set after a slew of uncharacteristic Serena mistakes.
Ultimately, however, she could not keep up with the best player in the game right now.
"When I'm playing her I don't think of her as my sister 'cos she's playing well, she's hitting so many big serves and running a lot of balls down," the younger Williams added. "When you're in the moment you don't really think about it."
Epic battle
It was clear from the start that neither sister was in the mindset to ease up on the other, with Venus contesting line calls early on, and Serena clenching her fist and shrieking in celebration after breaking Venus in the fifth game.
Serena served 12 aces and committed 22 unforced errors to Venus's eight aces and 15 unforced errors.
Her semi-final opponent is Italian Roberta Vinci, the world No. 43 who has not beaten her in four career attempts.
"She's going to present a completely different game from my last four matches," Williams said of Vinci. "She has nothing to lose, I don't either, so we're going to go out and have a lot of fun."
Grand Slam within reach
Serena Williams is now only two victories away from completing her first career calendar Grand Slam, having won all three of the previous majors in 2015. No female player has achieved the feat since Steffi Graf in 1988 (and no man has done it since Rod Laver in 1962).
The U.S. Open defending champion has already claimed a so-called "Serena Slam," having won the last four majors in a row, and is on pace for one of the greatest runs ever in professional tennis.
The feat is made even more remarkable by Serena playing her best tennis at what was considered an advanced age in the game. Her Wimbledon title in July broke the mark for the oldest singles victory in a grand slam tournament by a female at 33 years and 289 days.