Houston Astro George Springer to Host Inaugural All-Star Bowling Benefit for CAMP SAY: The Summer Camp for Young People Who Stutter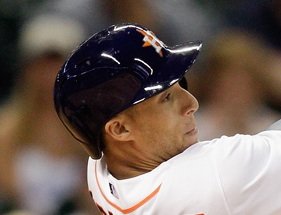 WHO: The Inaugural George Springer All-Star Bowling Benefit will be held Monday, July 20, 2015 from 7 to 10 p.m. at Lucky Strike Houston, located at 1201 San Jacinto St., Houston 77002.

The Bowling Benefit is hosted by George Springer, a Houston Astros outfielder and Sports Illustrated cover athlete, and is a fundraiser to support financial aid for young people who stutter to attend Camp SAY. Guests are invited to attend alongside master of ceremonies Bob Allen of KHOU, members of the Houston Astros, baseball legend "Louisiana Lightning" Ron Guidry, and other athletes and celebrities for a fun and memorable evening of bowling and entertainment.
WHAT: The George Springer All-Star Bowling Benefit serves as a fundraiser for The George Springer Kids Fund, which was established to offer young people of all socioeconomic backgrounds financial aid assistance and access to Camp SAY.

Springer, a person who stutters, is the national spokesperson for Camp SAY which is a program of SAY: The Stuttering Association for the Young, a non-profit 501(c)(3) organization that offers comprehensive and innovative programs that address the physical, social and emotional impact of stuttering. SAY offers Camp SAY; SAY after-school and weekend programs; Speech Therapy, and support groups.
The evening will begin with a cocktail reception followed by bowling with celebrity lane captains, open bar and dinner. The event will also feature sport themed items, experiences, and memorabilia in a silent auction. All proceeds from the event and silent auction will help send kids and teens to Camp SAY.
WHEN:Monday, July 20, 2015
7 - 10 p.m.
WHERE: Lucky Strike Houston
1201 San Jacinto St.
Houston, TX 77002
PRICE: Benefit Tickets: $200
Sponsorship Levels: $1,000 - $25,000
Program Ads: $1,000 - $5,000
To purchase a sponsorship, tickets, or program ad, please contact Noah Cornman at 212-414-9696, ext. 201 or at Noah@SAY.org. Also, tickets may be purchased online at SAY.org/Springer.
About George Springer
George Springer is a celebrated Houston Astros rookie outfielder, recent Sports Illustrated cover athlete, and a person who stutters. Springer was selected by the Houston Astros out of the University of Connecticut in the first round of the 2011 MLB Draft. As the 11th overall selection, Springer became the highest selection in the MLB Draft in Connecticut baseball history. Springer played his first MLB game in April 2014. In 2013, Springer joined the 30-30 club, recording more than 30 home runs and stolen bases. Springer was also named MVP in the Texas League All-Star Game, the Texas League Player of the Year, a Baseball America Minor League All-Star, an MLB.com Organization All-Star, and was a finalist for USA Today's Minor League Player of the Year Award. Springer was raised in New Britain, CT. Learn more at houston.astros.mlb.com.
About SAY: The Stuttering Association for the Young
The Stuttering Association for the Young (formerly Our Time) is a 501(c)(3) non-profit organization that believes every voice matters, and offers Camp SAY, a summer camp for young people who stutter, SAY after-school & weekend programs and Speech Therapy. Young people from all socioeconomic backgrounds have access to SAY programs, and in 2014 alone, more than $400,000 in financial aid is being awarded to families in need. www.SAY.org
About Camp SAY
Camp SAY is a summer camp where everything seems possible for a young person who stutters, and where they develop the skills they need to communicate more effectively, build self-confidence and forge friendships to last a lifetime. This sleep-away camp welcomes children and teens that stutter, ages 8-18, and their young family members and friends who want to share an incredible camp experience together. Young people from across the country, and beyond, attend Camp SAY year-after-year. www.CampSAY.org