U.S. officials: Assad losses in Syria could become ISIS gains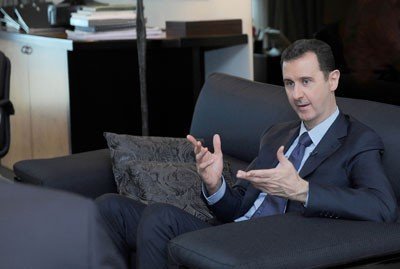 WASHINGTON (CNN) -- Syrian President Bashar al-Assad's momentum in fighting off rebel groups has decreased, but should his regime crumble, Syria could face greater instability and control by extremist groups, U.S. security officials are warning.
They attribute the gains of rebel fighters in part to their acquiring more battleground experience as well as the ability to use advanced tactics. There are also signs that moderate forces have become more coherent in their organization, making Assad more vulnerable.
But the officials pointed out that the U.S. will still have trouble identifying moderate partners while extremist groups such as al Qaeda affiliate al Nusra and ISIS, also known as ISIL, try to take advantage of any cracks in the government's control.
The Syrian regime's "momentum has been slowed," according to Joint Chiefs of Staff Chairman Gen. Martin Dempsey. "I do believe the situation is trending less favorably for the regime."
The shift has occurred in the last several weeks, Dempsey recently told reporters. Rebels have scored gains in both the north and south of Syria.
"What it might mean for the nation of Syria is further instability," he said, "for power to suddenly transfer precipitously. And it could mean an even increased humanitarian crisis."
Additionally, if Assad's power fades, both ISIS and al Nusra are poised to step into the breach even more assertively, potentially controlling parts of Damascus and other Assad strongholds.
"The conflict in Syria remains highly fluid, despite recent gains claimed by opposition forces and extremist groups," a U.S. intelligence official with direct knowledge of the situation in Syria told CNN, noting that a number of factors were at play.
"Years of conflict -- including defeats, victories and lessons learned -- have hardened the various armed opposition groups and extremist elements involved in the Syrian conflict," the official said. "It would appear that these groups, whether composed of locals or foreign fighters, are able to leverage their experience to field effective fighting forces and more advanced tactics."
He added, "The regime's apparent lack of success in recent offensives in southern Syria suggest moderate opposition forces may be more coherent -- even if they are not yet able to compete directly with extremist elements."
He pointed to three "emerging blocs of the opposition forces" -- ISIS, other extremists and moderates -- "that collectively pose a more direct threat to Assad compared to last year."
But the Syrian government still has a lot of partners to help beat back the rebels.
There are proxy groups that Syria seems increasingly to be relying on, the intelligence official said, indicating that Hezbollah might start acting more aggressively against opposition forces.
The official also noted that Syria's key allies, while facing their own challenges, "have not signaled any intent to lessen support."
In the past these allies have "surged support" to help prevent the Assad regime's collapse, and "their interest in maintaining the viability of a long-term ally leaves little doubt they would do so again," the official said.
The U.S. is watching closely to see if Iran and Russia step in to bolster Assad with weapons and supplies as they have in the past.
In the meantime, Dempsey said that these changes on the ground don't affect the U.S. strategy in countering ISIS.
"We still have the fundamental challenge of finding moderate Syrian opposition men to train to be a stabilizing influence over time," he said.
For more information go to http://www.cnn.com