Take the Guess Work Out of Summer Travel
Jo-Carolyn Goode | 5/12/2015, 11:54 a.m. | Updated on 5/12/2015, 11:54 a.m.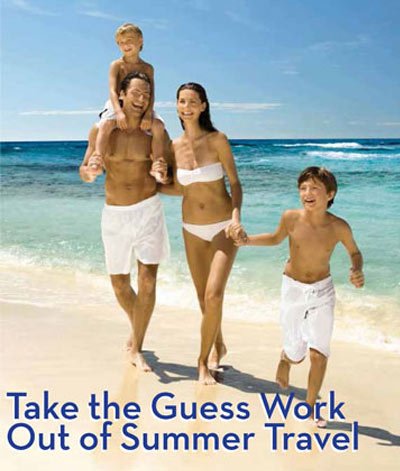 May is almost over. The close of the school year is a few days away. That means summer is just around the corner.  It is time for a little TLC with lots of rest and relaxation. The best way to do that is to escape the routine of everyday life and dive into a summer getaway. So pack your bags, schedule your time off, and plan your summer escape.
Mapping out the details of your vacation can be a bit much. Use our tips on everything from working with a travel professional to the best times to travel.
Working with a Travel Agent
Planning a vacation for just you is simple enough. Add in the rest of your family or an even larger group and this could be a monumental task when trying to get the best deals and secure travel, lodging and activities. Save yourself the stress and a lot of time by working with a travel agent.
Before enlisting the help of a travel agent there are some things you need to do so your appointment can go smoothly. First, have an idea of where you want to go. The world is huge so kind of pinpoint where your destination should be so the agent has a point of reference for their research. Cheryl Taylor of Top Trips and Tours says she asks her clients what's on their bucket list to start to get this answer.
Also have in mind your ideal budget for obvious reasons of course. Know what kind of environment that you want. Are you interested in family friendly spots? Do you want to have some fun in the sun? Are you looking for a partying type of place?  These are just a few helpful questions to ask yourself and those you are traveling with to narrow down your choices.
Last tip on working with an agent that Taylor clued me in on versus working on your own is that sometimes hotels and resorts will offer specials just for travel pros to encourage them to send their clients to their places. Another bonus that is beneficial to those with tight budgets is taking advantage of a payment plan. Hotels and airlines don't offer this service but some travel agents do, including Taylor. This is great since when planning trips on your own you have to pay everything all at once to snag a deal.  With an agent you get the deal and can pay over time. "A travel agent is just best to take all the guess work out of traveling, " said Taylor.
Where to Go
Narrowing down where to go can be one of the hardest things to do. Our world is huge and there are so many places to discover. Start by looking at who is going on the trip. If it is your spouse and the kids, Taylor says some of tops spots for families are Hawaii and visiting Disney Land and Disney World. I found a few more interesting spots on travelchannel.com that give families a bit of adventure too.