Why getting naked on holiday is a big thing in Germany: A German reveals all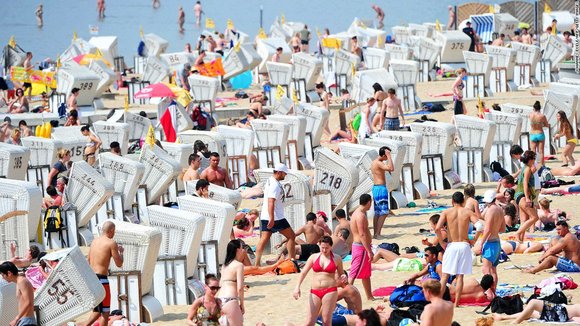 (CNN) -- When I was a kid, my father always used to sunbathe nude in our garden at weekends.
In public pools children of all ages were allowed to run around naked all the time.
Even today, I'm comfortable with getting naked in the sauna or gym changing room.
Maybe it's because I'm German.
Nudism is traditionally popular in Germany, a country considered buttoned up and conservative compared with, let's say, Italy.
In Germany, nudism is known as Freikoerperkultur (FKK), Free Body Culture.
Baring all is normal in saunas, swimming pools, the park and on the beach.
Summer in the parks of Berlin and Munich brings the chance of encountering a middle-aged, bronzed German wearing only a hat and the BILD-Zeitung, Germany's favorite tabloid.
Forget sausages and beer, the sign of true German-ness is publicly disrobing with absolutely zero self-consciousness.
For me, it's often just quicker and easier to do a clean strip at the pool or sauna than frantically trying to hide the bits that everyone else is already displaying without batting an eyelid.
Divided by the Iron Curtain, united by nudity
Germany's passion for clotheslessness finds its origins in late-19th-century health drives when stripping off was seen as part of a route to fitness and sunbathing a possible cure for TB and rheumatism.
In 1920, while the rest of Europe was still getting feverish over the sight an exposed ankle, Germany established its first nude beach on the island of Sylt.
Barely a decade later, the Berlin School of Nudism, founded to encourage mixed sex open-air exercises, hosted the first international nudity congress.
The Nazi era brought mixed fortunes for nudism, its ongoing popularity tempered by a moral clampdown.
Laws passed in 1933 limited mixed-sex nudism as "a reaction to the increased immorality of the Weimar state."
More restrictions followed amid claims the scene was a "breeding ground for Marxists and homosexuals."
Nevertheless, it remained popular, enjoying support among members of the paramilitary SS.
Rules were softened in 1942 but still subject to Nazi prejudices that predictably focused on Jews and other "undesirables."
But war didn't dampen Germany's enthusiasm for stripping off, even when the country was divided by the Iron Curtain.
After the war, nudism was equally popular in both German states.
Even as the country was being split asunder in 1949, some in the West were busy founding the Association for Free Body Culture -- an organization that today is part of the German Olympic Sport Federation and the largest member of the International Naturist Federation.
Naked proletariat
Nudism was particularly popular in East Germany, or German Democratic Republic as it was known.
It was secretly considered a form of escape from the uniforms, marches and conformity of the communist state.
East Germans were free to practice nudism and did so wherever possible: at lakes, sea beaches and large FKK camping grounds.
There was also, of course, an official socialist institution with a long, uninspiring name.
The "Proletarische Freikoerperkulturbewegung" or Proletarian Free Body Movement had 60,000 members.