Cadillac Brings Innovation and Luxury to 2016 Cadillac CT6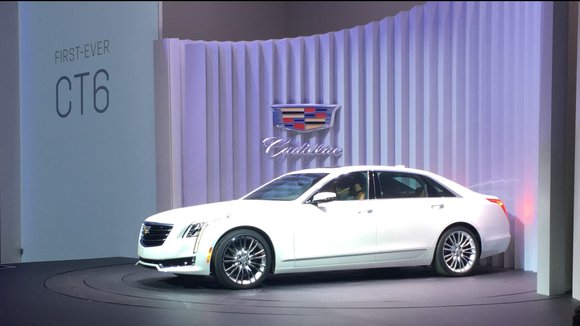 Hosted at the infamous Naval Yards of Brooklyn, Cadillac opened the CT6 World Premiere Event with an opening presentation by Cadillac President Johan de Nysschen. The CT6 is the first of eight new cars Cadillac will create to expand in the next decade.
The main point to take away from this re-invention of a large sedan is it is uniquely Cadillac. The CT6 has the most advanced body structure with mixed-materials composed of steel and aluminum reducing the weight by 200 lbs. Cadillac has created the most light and agile large sedan with its rocket science manufacturing techniques.
The executives want you to know Cadillac is back with the new CT6. Its has all wheel drive, active rear steering, and magnetic ride control. the bold and spacious interior has night vision, a rear camera, and a 360 degree camera on all sides. Adding the custom quilting patterns and unique perforated seats with multi-adjusting features truly makes this a luxury vehicle.
Ed Welburn current Head of Design at General Motors spoke with me saying, "What excites me is the design of the vehicle draws you in and once you get in its amazing."
This Cadillac CT6 is the epitome of a modern luxury car, and with its many features it will surely be as staple of the Cadillac brand. This premiere event of the CT6 is showing that Cadillac will continue to bring luxury and innovation to the 21st century.
For more information, visit www.cadillac.com