Gov. Mike Pence: Indiana 'not going to change' anti-LGBT law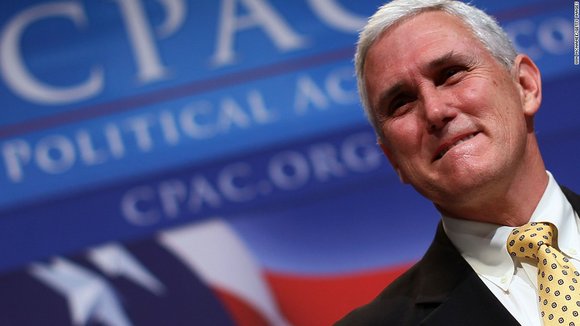 WASHINGTON (CNN) -- Indiana Gov. Mike Pence says concerns that his state's new "religious freedom" law will allow businesses to turn away LGBT customers is the result of a "tremendous amount of misinformation and misunderstanding."
But he refused Sunday to answer at least six yes-or-no questions about whether the measure legalizes discrimination against gays and lesbians.
And he said he won't support legislation that would clean up the public relations mess by adding protections based on sexual orientation to Indiana's anti-discrimination laws.
"That's not on my agenda, and that's not been an objective of the people of the state of Indiana. And it doesn't have anything to do with this law," Pence said in an appearance on ABC's "This Week."
"We are not going to change this law," he said.
Pence's decision last week to sign into law the Religious Freedom Restoration Act that allows Indiana businesses to cite their religious freedom as a legal defense has triggered an intense backlash against his state.
White House Press Secretary Josh Earnest blasted Pence during the same segment on ABC's "This Week," saying that the Indiana Republican "is in damage control mode this morning, and he's got damage to fix."
"It should be easy for leaders in this country to stand up and say that it is wrong to discriminate against people just because of who they love," Earnest said.
Tech companies have also taken aim at Indiana. Apple chief executive Tim Cook tweeted that "Apple is open for everyone. We are deeply disappointed in Indiana's new law."
Salesforce.com head Marc Benioff said his company would stop its travel to Indiana and help its employees move out of the state.
The mayors of San Francisco and Seattle issued statements announcing bans on the spending of public funds for employees to travel to Indiana. San Francisco makes an exception for travel "essential to the public health and safety."
Seattle will also inspect city contracts to see if any are with businesses located in Indiana.
The mayor of Indiana's capital Indianapolis condemned the new law.
"I had hoped the Statehouse wouldn't move in this direction on RFRA, but it seems as if the bill was a fait accompli from the beginning," said Mayor Greg Ballard. "We are a diverse city, and I want everyone who visits and lives in Indy to feel comfortable here. RFRA sends the wrong signal."
The NCAA, which is headquartered in Indianapolis and set to host its men's basketball Final Four in the city this week, said the law could lead it to move events elsewhere in future years. The NBA, WNBA and NFL issued critical statements. And groups like the gamer convention GenCon and the Disciples of Christ, which holds a meeting in Indianapolis each year, have said they could move their events, too.
Even popular culture figures have weighed in. Miley Cyrus called Pence an "a--hole" on Instagram, while M.C. Hammer tweeted that Indiana's law is "barbaric and inhumane."