Urban Souls Dance Company To Host Auditions For Urban Kids Dance Program; Scholarships Will Encourage Houston Youth To Dance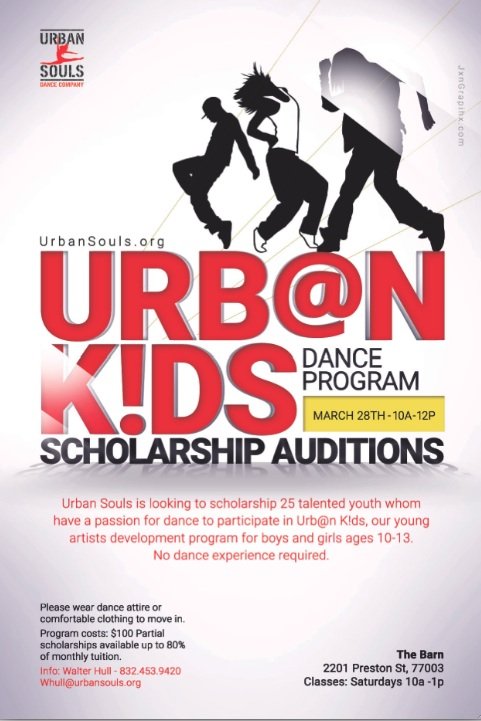 MARCH, 25, 2015, HOUSTON, TX----Urban Souls Dance Company is seeking young and energetic boys and girls between the ages of 10-13 to audition for scholarships for the Urban Kids Dance Program, this Saturday, March 28th, from 10:00am - 12:00pm at The Barn (2201 Preston). No previous dance experience is required.
Urban Kids Dance Program will award scholarships that cover up to 80% of the $100.00 monthly tuition for participation in it's well-recognized dance organization to self-motivated youth in the greater Houston area that are interested in developing as strong artists in the genre of dance.
Since it's inception 2012, the Urban Kids Dance Program has successfully infused social and emotional intelligence in the art discipline of ballet and modern dance. The curriculum addresses young people's communal and personal needs by offering the opportunity to become a young responsible artist by teaching life through movement.
The 5 touch points of the Urban Kids Dance Program are:
-self awareness
-social & emotional intelligence
-diversity
-self esteem
-adaptability
Walter Hull, General Manager of Urban Souls Dance Company said,"The Urban Kids Program is a community development initiative that provides quality dance training and social development skills to youth living in the Greater Houston Area. With a genuine interest in the overall development of all participants, the program uses creativity to promote individuality, character, wellness, and cultural awareness."
Auditions will be held Saturday March 28th, 2015 from 10:00am - 12:00pm at The Barn (2201 Preston St, Houston, TX, 77003). For more information, visit www.urbansouls.org
For audition and program information, please contact:
Walter Hull, GM
whull@urbansouls.org
832.453.9420
About Urban Souls Dance Company
Rooted deeply in the community, USDC believes in always challenging views that separates us. We believe in thinking differently, taking the position that art transforms people, and people transform the world. We challenge divisive views through the creation and presentation of a spectrum of artistic works that promote diversity, love, and understanding. Employing the art of dance to advocate for the use of creativity to inspire and engage with all of society, USDC bridges the gap between life and art throughout both local and global communities.
For more information, visit UrbanSouls.org