2016 Lexus RX previewed ahead of New York auto show reveal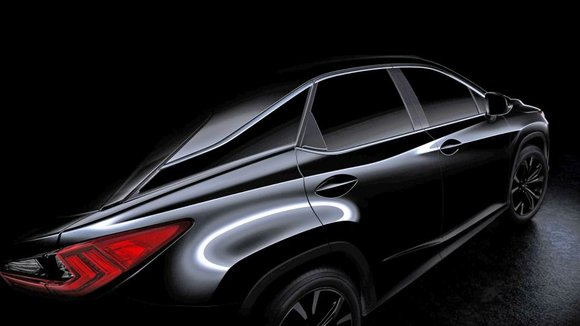 FOURTH-GENERATION RX WILL KEEP SUV'S BASIC LAYOUT
Lexus has published an image previewing the 2016 Lexus RX, which will debut at the New York Auto Show: The fourth-generation mid-size luxury SUV will be unveiled to the public on April 1, and given the popularity of this model the press conference is unlikely to feature any April Fools' jokes.
The redesigned RX is expected to feature a slightly longer wheelbase than the outgoing model as well as a larger cargo section after the C-pillar, with Lexus believed to be buying rear-seat passegers a little more legroom. The longer cargo section, meanwhile, is believed to address other automakers' entries in this segment that have tried to outdo the RX through stats and numbers. The exterior design will likely reflect a toned-down version of the smaller NX crossover which debuted just months ago.
The Lexus RX was first introduced in 1997, taking a distinctly different approach to the midsize SUV than was practiced by other automakers at the time. The first-generation was aimed squarely at on-road use, and combined the driving characteristics of luxury sedans with the expensive interiors of Lexus sedans -- a significant departure from the SUV formula of the time. Even though the basic vehicle was also offered as a Toyota Harrier in other markets, the RX was positioned as a premium vehicle while still managing to undercut other luxury SUVs in price.
The current-generation Lexus RX has been on sale since 2008, and has retained the look and proportions of the debut version. The outgoing RX has been offered with a choice of inline-four and V6 engines, inluding a hybrid version, with most examples for the U.S. market assembled in Canada.
Toyota has not confirmed powertrain options for the U.S. market just yet, but we expect to see a V6 and a hybrid version of the popular SUV. Other markets are likely to receive a slightly varied mix of engines, including an inline-four.
For more information go to http://www.autoweek.com