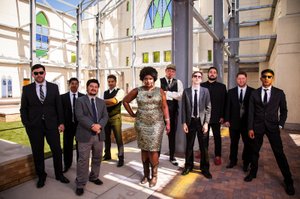 If you are headed to SXSW, one of the biggest music festival in the world, you don't want to miss the dynamic 10-piece band, The Suffers'. Their collective sound is soulfully-hypnotic infused with a rock-band flare! Their sound is experimental and vibrant in every way encompassing their Gulf Coast roots. These native Houstonians know how to give their fans an unforgettable musical experience and is taking the live music scene in Houston and around the nation to another level. The local favorite has accepted over nine awards in three years at the Houston Press Awards, made their appearance in at the Voodoo Music + Arts Experience 2014, Dallas' Index and Homegrown Festival, Houston's Free Press Summer Festival, Paste Magazine's Untapped Festival, CMJ Music Marathon 2014 and now they are back for a second round at SXSW 2015.
The Suffers' joined ranks with Red Bull Sound Select to hit the road on tour in the west coast back in February in anticipation to share with their fans hit songs from their LP, Make Some Room. The Suffers' was established in 2011 and curated by bassist Adam Castaneda and vocalist/keyboardist Pat Kelly, who introduced trumpet player Jon Durbin, trombonist Michael Razo, guitarist Kevin Bernier, percussionist Jose "Chapy" Luna, and drummer/vocalist Nick Zamora. The rythmn section consists of jazz saxophonist Cory Wilson and guitarist/vocalist Alex Zamora and leadwoman, vocalist Kam Franklin as she captivates the audience with her bel canto.
In early December 2014, The Suffers' opened up for Lee Fields and the expressions alongside another one of Houston's powerhouse indie rock band, the TonTons for the first ever Red Bull Sound Select inaugural show at Warehouse Live in Houston. Warehouse Live that night was a pretty groovy experience! Lines were wrapped around the building, the bar was live, really cool photo booths were going and all the ladies who stumbled upon Dripped nail techs had a chance to get a free mani before the show.
When The Suffers' began to perform, you were immediately engulfed by the classic sounds of their lead vocalist, Kam Franklin, as she set the ambiance with much admiration in comparison to a Motown review with an original modern twist.
If you've ever had the incredible opportunity to attend a Red Bull Sound Select showcase, especially during a major festival, you know they can throw some of the best free and full of awesomeness showcases platforming indie bands. You can officially stop spazing if you missed them on tour or at the Houston event because it's festival time and The Suffers' will be making major moves around the live music capital of the world, Austin, TX.
According to Esquire magazine, The Suffers' is one of the top 40 bands you need to hear, "Because 10-piece southern funk where dancing isn't optional".
Austin, TX -The Suffers' SXSW 2015
3/14 (11PM) Outlaw Roadshow @ Elysium | 705 Red River
3/17 (4:30PM) Paypal Party @ Empire Control Room | 606 East 7th
3/18 (1AM) New Frontier | Holy Mountain | 617 E 7th
3/19 (12PM) BMI Party @ Lambert's | 401 W 2nd
3/19 (3:35PM) Big Picture Media @ The Blind Pig Roof | 317 E 6th
3/19 (6:00PM) do512 Family Picnic @ Midway Food Park | 1905 S. Capital of Texas
3/20 (11:30AM) Balcony TV @ Joe's Crab Shack | 600 E. Riverside
3/20 (11:10PM) The Convoy Group Showcase @ Palm Door Sabine | 401 Sabine
Visit The Suffers' website for exclusive details, more information on their upcoming performances and to purchase their LP entitled, Make Some Room:
Follow The Suffers:
Facebook: www.facebook.com/thesuffers
Twitter: www.twitter.com/thesuffers
Instagram: www.instagram.com/thesuffers
Youtube: www.youtube.com/TheSuffersTX
Soundcloud: www.soundcloud.com/thesuffers