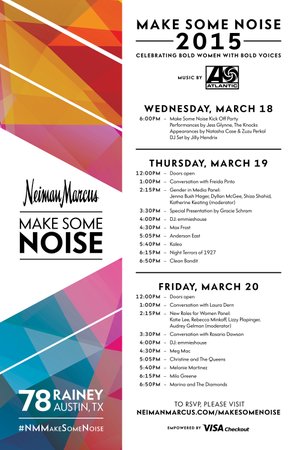 Neiman Marcus returns to Austin with its second annual Make Some Noise brand platform activation celebrating women on the rise, women making a difference, and women shaking up the status quo to lead the way forward for their generation and all the ones to come.
Following the success of the official launch of Make Some Noise last year, which featured two of the top fifty shows of SXSW according to Rolling Stone,the three-day activation running from March 18 to 20 at 78 Rainey Street will once again feature thought-provoking panel discussions with female noisemakers in technology, fashion, film, music, food, art, and business. Each day will be capped off with live music from Atlantic Records Group and its affiliated labels, curated by one of the most influential women in music, Julie Greenwald, Chairman and COO of Atlantic Records Group.
"For over 100 years, Neiman Marcus has dressed women of style; and style breeds confidence. But more so, for today's woman, it's a combination of style and substance that is propelling them to succeed in groundbreaking ways," said Wanda Gierhart, senior vice president and chief marketing officer, Neiman Marcus Group. "Over the next three years, our goal is to embody Make Some Noise in every facet of our business using brand activations at key cultural moments.With trailblazing female panelists talking about their success, the hottest emerging musicians, and a roster of supportive partners, we want to inspire all women to join in, use their voices and make some noise in their own lives."
The Make Some Noise activation begins with a housewarming party on Wednesday, March 18, and then kicks into high gear on Thursday, March 19 and Friday, March 20 with an exciting lineup including the following:
WEDNESDAY, MARCH 18
• Musical performances by Grammy Award-winning artist Jess Glynne and New York-based dance duo The Knocks • Ice cream demo from Natasha Case, co-founder of Coolhaus • Live mural painting by local Austin artist Zuzu Perkal• DJ set from NY-based Jilly Hendrix
THURSDAY, MARCH 19
• An intimate conversation with actress, advocate, and activist Freida Pinto • A captivating panel discussion, Women Writing Their Own Story: Gender in Media, featuring Jenna Bush Hager, NBC's Today contributing correspondent; Shiza Shahid, cofounder and global ambassador of the Malala Fund; Dyllan McGee, founder of McGee Media and founder & executive producer of MAKERS; and moderated by Katherine Keating, CEO and executive producer at Keating Company International • A special performance from singer/songwriter, TED speaker, and philanthropist Gracie Schram • Music handpicked by Atlantic Records Group will include Grammy Award-winning international phenomenon Clean Bandit; Night Terrors of 1927; Kaleo; Anderson East; and Max Frost, an Austin native who was recently named one of Rolling Stone and NPR's "10 Artists You Need To Know"
FRIDAY, MARCH 20
• A one-on-one conversation with the two-time Academy Award-nominated actress and humanitarian Laura Dern • An engaging panel discussion, Breaking Out: The New Roles for Women, featuring Katie Lee, chef, author and co-host of Food Network's The Kitchen; Rebecca Minkoff, designer and business woman; Lizzy Plapinger, MS MR and co-owner/founder of Neon Gold Records; and moderated by Audrey Gelman, political and brand communications consultant • An exclusive chat with actress and philanthropist Rosario Dawson • Music handpicked by Atlantic Records Group will include acclaimed UK singer/songwriter Marina and the Diamonds; Milo Greene, whose sophomore album has received over 1.9 million streams to date; Melanie Martinez; Christine and The Queens; and Australian breakout artist Meg Mac.