The Bayou City Art Festival to Offer Arts Education, Creative Zones, Fun and Fare for the Entire Family
In its 44th year, the biannual event will welcome more than 400 artists from across the country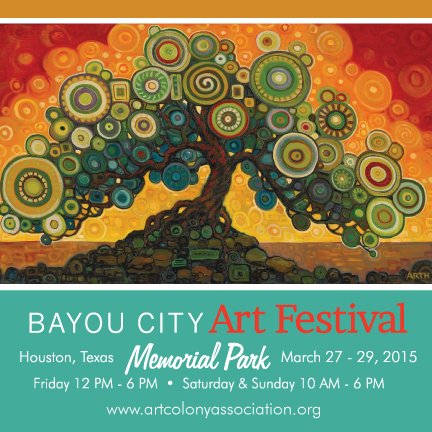 Houston, TX, March 12, 2014- This month, the Bayou City Art Festival Memorial Park 2015 will welcome more than 30,000 Houstonians to their three-day affair, which will take place on Friday, March 27 from 12-6 p.m. and on Saturday, March 28 and Sunday, March 29 from 10-6 p.m. The event offers the opportunity to discover art from juried national and international artists, in addition to a total of 40 young, budding artists. This year, the new Student Art Park will house the works of both Middle and High School students and serve as the designated area for arts education.

"We received an unprecedented number of applications for our arts education programs, which include the Middle School Art Competition and the Emerging Artists Program," said Joseph K. Plumbar, Art Colony Association [producers of the Bayou City Art Festival], Board President. "It's a great reflection of this city and we look forward to continuing to nurture Houston's next generation of artists through our education outreach initiatives."
The Emerging Artist Program presents promising Houston area high school students with the opportunity to have first-hand experience in the business of being a professional artist. The students are currently in the process of creating large scale, 3-D site specific outdoor public art works to be on display at the festival, in the Student Art Park.
The Student Art Park will also include the artwork of the 30 finalists chosen from the Middle School Art Competition. The competition invites middle school age students from Greater Houston area school districts to submit 2-D works to be juried by distinguished local artists, gallery owners and art enthusiasts.
The 30 finalists' artwork will be on display at Memorial City Mall until March 24th, and then it can be viewed again on the festival grounds on March 27, 28, and 29. The MSAC is funded in part by Cremate Texas.
The Green Mountain Energy Children's Creative Zone will return and include hands-on projects led by non-profit partners Fotofest, The Museum of Fine Arts Houston, The University of Houston Clear Lake and Young Audiences of Houston. For the second year at the spring festival, Houston's favorite food trucks will be on site, including Koagie Hots, Bernie's Burger Bus, Happy Endings Asian Fusion, Yeti Sunshine and more.
Festival Information:
Hours are 12 pm to 6 pm on Friday, March 27 and 10 am to 6 pm on Saturday, March 28 and Sunday March 29.
There is no public parking at Memorial Park, however, a shuttle service will be provided to patrons from the conveniently located Northwest Mall located at 9500 Hempstead Highway.
Shuttle passes are on sale now for just $3 for a roundtrip ride on air-conditioned luxury buses here: http://bit.ly/1AcxyzY
Advance tickets are on sale now for just $10 for adults and $5 for children (ages 3-12) at www.artcolonyassociation.org
For updates on social media, follow the official event hashtag #HouArtFest, like the Facebook page at www.facebook.com/houstonartfest or follow on Twitter @houstonartfest and Instagram @houstonartfest.
About Bayou City Art Festival:
Now in its 44th year, the Art Colony Association, Inc. has raised millions of dollars for local nonprofit programs through the festivals. Proceeds from the events go back into the community through Art Colony Association's nonprofit partners and education outreach programs. The Festivals are funded in part by grants from the City of Houston through the Houston Arts Alliance, corporate sponsorships and private contributions. For more information, please visit www.artcolonyassociation.org.