Exhilarating Night at RodeoHouston with Time McCraw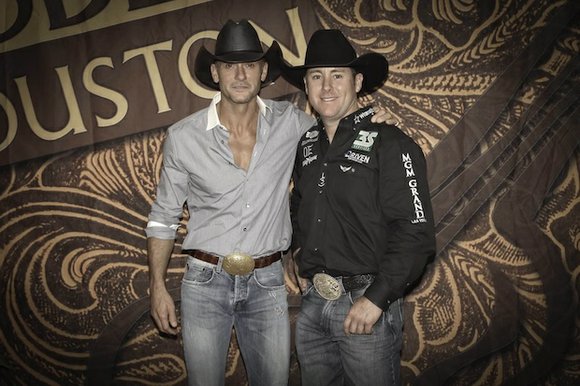 Houston loves Tim McGraw and they showed him how much as they moved in like herds of cattle for his performance at the Houston Livestock Show and Rodeo.
After all the cattle rustling, calf wrestling, and mutton riding, the NRG crew rolled out the stage. All the lights went black, the fireworks began and the show took off in grand fashion. Tim McGraw opened the show with an amazing song One of Those Night and for him, it was one of those night. The crowd roared in appreciation at which point, Tim McGraw took his performance to the people. Leaving the stage and performing from the ground of NRG mingling with the audience. Touching, feeling, tweaking baby's cheeks and those who had seats on the ground floor. WOW they got a treat! Tim McGraw sung "I like it, I love it, I want some more of it" and the crowd went wild. The crowd sung the chorus of the song for Tim McGraw as a background choir and they were great.
It was an exhilarating night at NRG stadium for the Tim McGraw performance for the Houston Livestock Show and Rodeo.
Houston has great appreciation for artists they really love and they LOVE TIM McGRAW.
For me, I liked it, I loved it, I want some more of it.
For more information, visit www.rodeohouston.com