Golfer Retracts Claim that Tiger Woods Failed a Drug Test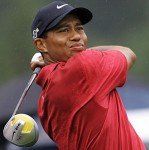 Tiger Woods announced last month that he was taking a break from golf to work on his game. "My play, and scores, are not acceptable for tournament golf," he stated, adding he would not return to the Tour until he can compete with the best in the game.
Tiger Woods' agent has come out swinging against a claim made by a fellow golfer that Woods' so-called break from golf is actually a suspension for a failed drug test. Pro golfer Dan Olsen was interviewed Friday on the radio show 'Mad Dog in the Morning' and said: "I've heard that he's suspended. I heard he's on a month's suspension. And it's not, it's kind of a strong witness. It's a credible person that's telling me this. …It's not testosterone, but it's something else." Olsen, who last played in a PGA Tour event in 2011 and missed the cut, also said Woods was using untested equipment.
On Monday morning, the PGA Tour responded to the claims. "There is no truth whatsoever to these claims. We categorically deny these allegations," said Ty Votaw, executive vice president of the PGA Tour. Olsen issued a retraction Monday on the web site of WVFN-AM in Lansing, Mich. "I retract the entire interview," Olsen said in a statement. "My comments were ill-advised. I want to apologize to Nike, the PGA Tour, Phil Mickelson, Tiger Woods and Tim Finchem."
For more information go to http://www.facebook.com/yourgossipfix