Walk with Harris Democrats in the Houston GLBT Pride Parade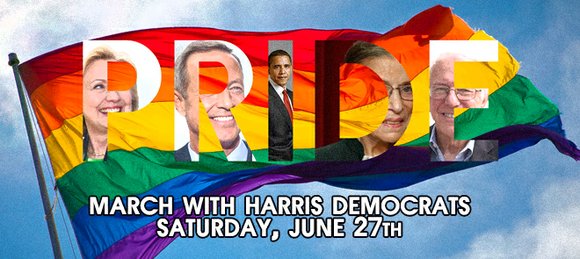 This Saturday, Harris Democrats will be participating in the Houston LGBT Pride Parade and we want you to join us.
With the Supreme Court soon to rule on marriage equality, and the fact that more than 20 anti-LGBT bills were defeated by Democrats in the Texas Legislature this past session, there is a lot to celebrate.
Every year Harris Democrats purchases an entry in the parade and we invite Democratic supporters to participate at no cost.
We are entry #98 and our staging location is on the corner of Walker and Main Street. All participants should be in place with our float by 7:00pm and the parade will kick-off at 8:30pm. Our staging location is just a block off of the Lightrail Red Line Main Street Central Station, so you can park anywhere along the line and make your way to us easily.
Bring your homemade signs, wear your favorite campaign or LGBT pride shirt and help us celebrate in downtown Houston on Saturday evening!
For more information, visit http://www.harrisdemocrats.com